On Sunday, 26 November 2017 the diocese of Galway, Kilmacduagh and Kilfenora held a thanksgiving mass and their Annual Pope John Paul II Award ceremony in St Mary's College, Galway.
63 young people received their Pope John Paul II Award
63 young people from 23 different parishes and 8 different schools throughout the diocese received the Gold, Silver, Bronze and Papal Cross award.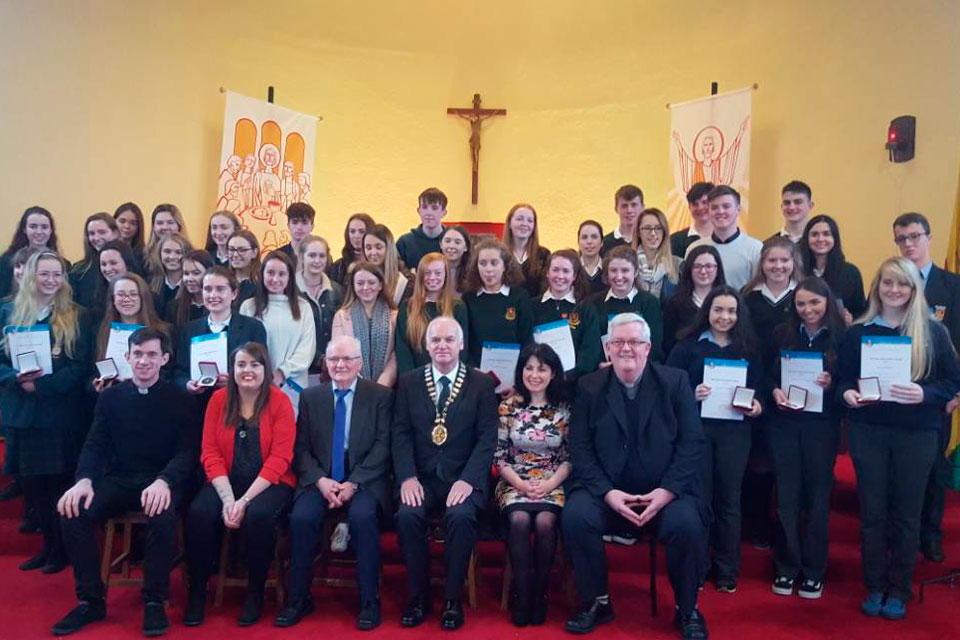 Newly ordained priest and chaplain to NUI, Galway Fr Declan Lohan celebrated the mass. Fr Declan (who was just ordained in July) had actually worked with a group of our award recipients when he was a deacon in Salthill parish last year so it was very fitting to have him celebrate our Mass of thanksgiving. Many of the participants took part in the mass from readers of the word to prayers of the faithful and from Eucharistic Ministers to reflections and music it was a very joyful celebration of the Eucharist.
Actress Sheila Moylette from RTE's Can't Cope Won't Cope and BBC's Ripper Street was the keynote speaker and her address touched everyone present. She spoke of her life and her faith and reminded the young people that they are unique and beautiful and each and every one of them have gifts and talents to share with the world.
Diocesan Administrator Michael McLoughlin thanked the young people for all their hard work and for all that they have brought to their parishes and communities in the past year. He also thanked the Knights of Columbanus for their continued support of the award and especially thanked Supreme Knight Gerald Harbinson for making the long trip down from the north to attend the ceremony.
Get involved with the Award
If you would like to find out more about the Award in the diocese of Galway, please please visit the Galway Award website or contact Mia Joyce-Walsh on: 091 565 066 or email: jp11galway@gmail.com