The Pope John Paul II Award
The Pope John Paul II Award encourages you to go beyond your comfort zone on a journey of self-discovery. It challenges you to give of your time, your talents, your intellect, and your social skills for the well-being of others and for the Glory of God."

The Pope John Paul II Award enables participants to take an active part in the life of their Church - in the life of their community and society. It also enables young people become more aware of the teaching and role of the Catholic Church in the world and to engage at a deep level with Christ.
The Award is committed to helping young people enhance their spiritual, physical, emotional and social development through participation in school, parish and community activities.
A message from the Bishop of Galway
It is sometimes said that our young people are the Church of tomorrow and so they are. But these young people are more than just the future of the Church. They are the Church of today. As such, as well as presenting us with our greatest resource, young people present us with our greatest challenge.
From my conversations with young people, I am convinced that many want to be involved in our Church. Our challenge is to offer them practical and meaningful opportunities to play their part in the building up of our faith community.
Through our team at the Diocesan Pastoral Centre, we continue to seek ways of identifying the faith development needs of our young people, to provide opportunities for their inclusive involvement in the Church and to empower them to minister to their peers. At Confirmation when they receive the gifts of the Holy Spirit, we pray that God will 'support them through every trial and by their works build up the Church in holiness and joy'.
The Pope John Paul II Award is one way in which our young people can get involved in their local parishes for their benefit and for the benefit of their parishes. It offers them practical ways to express their faith and it challenges them to reflect on their role in their Church. I pray God's blessing on all who will benefit from their involvement in the Pope John Paul II Award.

+ Martin Drennan
Bishop of Galway
The Award in the Diocese of Galway
There are 4 Awards - Gold, Silver, Bronze & Papal Cross
Each Award is completed over a 16 month period beginning at the start of the academic year.
Awards are earned by taking part in parish and social activities – 1 hour per week over 8, 14, 20 or 26 weeks.
Those that have completed the Gold Award have a further option of completing the Papal Cross Award.
Gold AwardSilver AwardBronze AwardPapal Cross Award
Diocese of Galway Award Top-Up Suggestions
Award Top-Ups are given in recognition of the extra activities that Award participants are already involved in.
Top-Ups will go towards the total number of hours an individual has to complete.
Papal Cross:
7.5 hours
Gold
: 6 hours
Silver:
4.5 hours
Bronze:
3 hours
Top-Ups can be achieved in a number of ways, for example:
Pilgrimage
Many parishes organise pilgrimages, either specifically for young people, or for the wider parish community, but open to young people. Schools also organise pilgrimages to places like Croagh Patrick. Participation in this type of activity can be part of the Pope John Paul II Award.
Humanitarian Trips
Many third level students undertake humanitarian trips to Third World countries during their summer break. These trips can also provide an opportunity for Top-Ups for the Pope John Paul II Award.
World Youth Day
World Youth Day is an international festival of Catholic faith organised every three years. Pilgrims who travel to this wonderful event participate in a six month preparation programme.
There may be other activities that you are involved in that are not included here but may be relevant, if so please contact the Pope John Paul II Award Committee for approval.
Award Handbook
The Award handbook explains in detail how the Award is run and who is responsible for running the Award in your diocese.
On Thursday, 22 November 2018 the diocese of Galway, Kilmacduagh and Kilfenora held their 8th Annual ... read more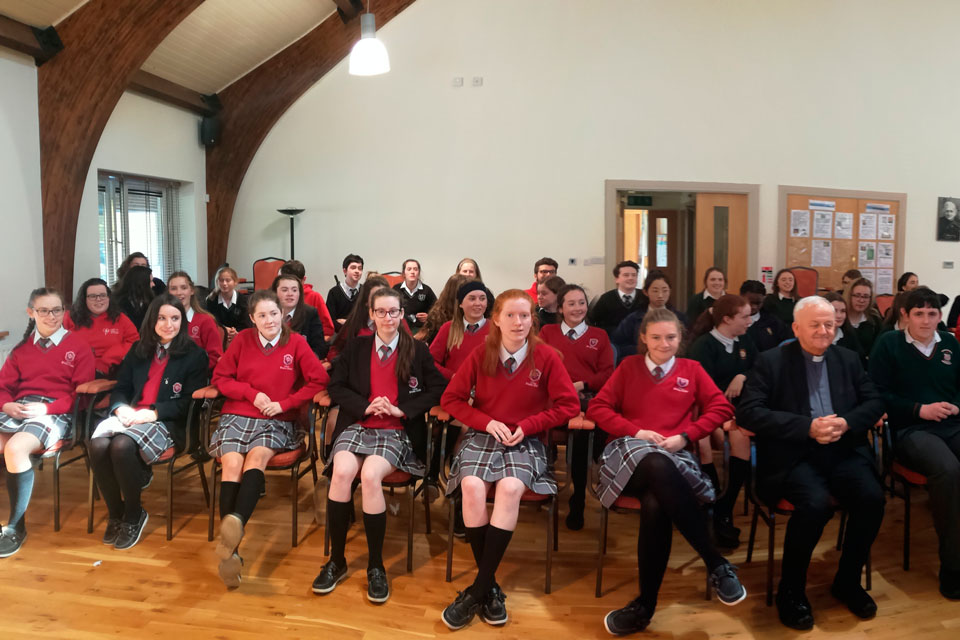 On Thursday, 19th April 2018, 60 young people from all across the Diocese of Galway, Kilmacduagh ... read more