In light of a possible visit by Pope Francis next year to Northern Ireland, UTV news reporter Sarah Clarke will present a one hour special programme investigating today's Catholic Church in Ireland its so-called 'vocation crisis', and talks to two men who answered the call to join the priesthood.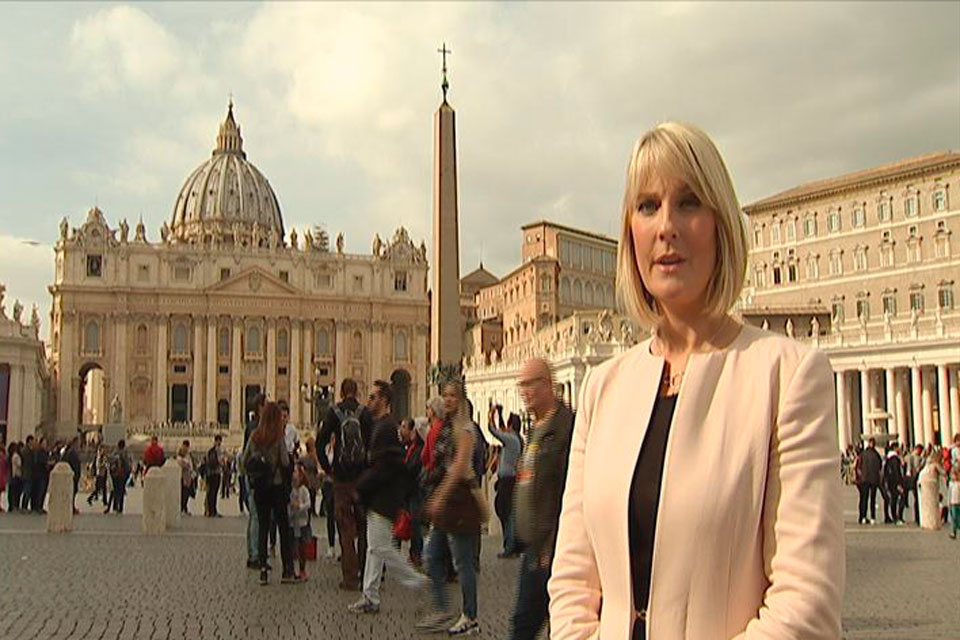 Sarah Clarke interviews former Premiership footballer Philip Mulryne's in his first TV interview.
Entitled 'A New Order', Sarah travels from Belfast to London to Dublin to Rome, talking to senior clerics, former UK Ambassador to the Holy See, commentators and well-known Northern Irish practising Catholics, to offer this insight into how the church is coping with its turbulent past; how some senior clerics view celibacy and marriage; and the perceived future role of women in the Church.
Fr Philip Mulryne, former Premiership and Northern Ireland footballer
In his first television interview since becoming a Dominican priest, former Premiership and Northern Ireland footballer Philip Mulryne from West Belfast charts his journey to faith, from feeling unfulfilled by his success and lifestyle, to taking time out to reflect, and answering the call to become a fully-fledged priest.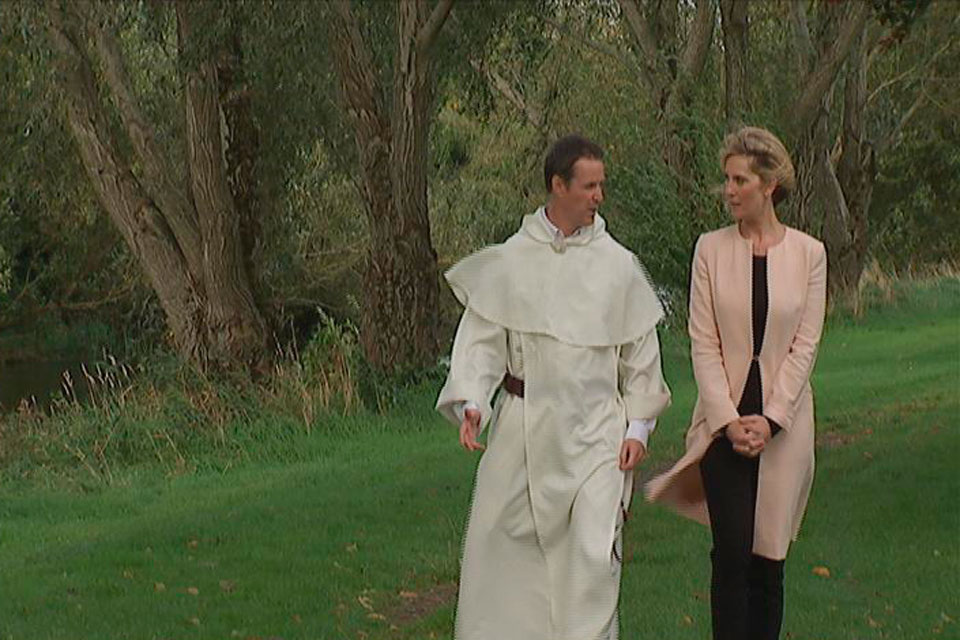 Fr Philip Mulryne OP commented, "Towards the middle to end of my twenties I grew a little bit dissatisfied with the footballer lifestyle, all the stuff around the game. Still loved the game very much – playing, training and being involved in the soccer teams. I was not feeling fulfilled by it which led me to ask deeper questions. At the end of that process I returned home in 2009 and took a year out of the game and in that year I rediscovered my faith.
"From nowhere the desire in me started to grow to become a priest and I knew that wasn't from me as I never my whole life wanted to become a priest. All my life was about was football. And so this desire that was growing certainly wouldn't have been something I generated myself. I ignored for a little while but it wouldn't go away."
He also talks about the response from his footballer friends, saying, "They found it hard to understand ………The life of a priest is very alien, they ask why would you do that? So we have some interesting conversations but after all the banter they are my friends and they are very supportive of it."
Fr Manuelito Muga Milo – curate in St Patrick's Church, Belfast
Sarah also talks to Fr Manuelito Muga Milo, originally from The Philippines, but who finished his training in Ireland and is now the first foreign priest to be trained and ordained for a diocese in Ireland, taking up a curate position in St Patrick's Church Belfast on Donegall Street.
He talks about taking time out from the seminary to discern his faith when he first arrived in Belfast from The Philippines, commenting, "I was still adjusting to Irish Catholicism, the culture and the society. It was such a big change. I decided to step out……. It's not fair, God doesn't send me a text message that says you should be become a priest. I was doubting myself – is this what I want to pursue because I want it or is it because God calls me to?'
Pope John Paul II Award
As well as exploring these two men's faith, the programme also allowed Sarah to spend time with young people involved in the Pope John Paul II Award, a faith achievement award for 16-18 year olds. Sarah met with Award participants in Rome as they celebrated the Awards 10th Anniversary.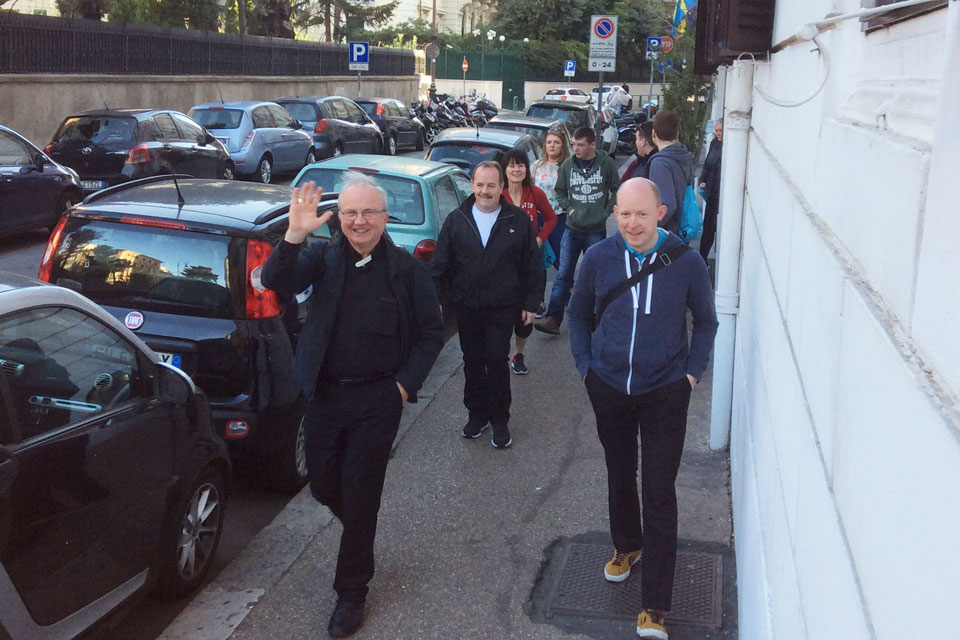 Bishop of Derry and Patron of the Pope John Paul II Award, Donal McKeown who is 40 years ordained this summer, gives a very personal insight into the vow of celibacy: 'I would love to have been married, I would have loved to have been a father and a grandfather but it's not my vocation. And I'm at peace with that. I love young people's company, women's company but marriage is not my vocation and I'm a peace with that and have been for all of those years. I've accepted that's what the Lord is calling me to do.'
And Archbishop of Armagh Primate of All-Ireland Eamon Martin said of celibacy: 'I have not always found that easy, in the same way I think someone who is married can find it difficult to remain faithful. For me to remain faithful to my celibate life is at time quite challenging.'
Sarah said, "We started out aiming to observe why two men in such a secular age would dedicate their lives to the priesthood. However, the programme has delivered much more than that. All contributors spoke so candidly about the challenges facing the church and it appears that a dialogue is beginning around its future, in the context of its past and the part it plays in today's society."
Terry Brennan, Head of News and Programmes, UTV said, "This programme not only provides a real human interest element as to what motivates young men to join the priesthood in the 21st Century, but also explores wider issues relating the Catholic Church as it navigates its way through several high profile and controversial issues. We thank everyone who took part in the programme and for sharing their personal stories."
'A New Order' was broadcast on Wednesday, 29th November 2017 at 10.45pm – UTV.
It is now available to view on the ITV hub at http://www.itv.com/utvprogrammes/a-new-order/a-new-order-from-the-premiership-to-the-priesthood