Feel free to contact us with any questions or assistance you may need with the Award. We are here to help.
Contact the Pope John Paul II Award Head Office
The Pope John Paul II Award
Derry Diocesan Catechetical Centre
The Gate Lodge,
2 Francis Street,
Derry,
Northern Ireland
BT48 7DS
Telephone: +44 (0)2871 264087 (UK international code)
Telephone from ROI: 048 71 264087
Email: admin@thepopejohnpauliiaward.com
Follow and Share the Pope John Paul II Award
Follow the Award on our social platforms below. Share your pictures and stories. Please include the #JP2Award hashtag.
Send us your pictures and news
We want to hear what you're doing as part of the Award.
Tell us about:
– your annual Award ceremonies,
– activities you are doing as part of your Award,
– any faith development programmes,
– charities Award participants you are involved with, and
– any other activities or stories that show young people active in their faith and community.
Email your pictures and stories to: admin@thepopejohnpauliiaward.com or share them on any of the social platforms above.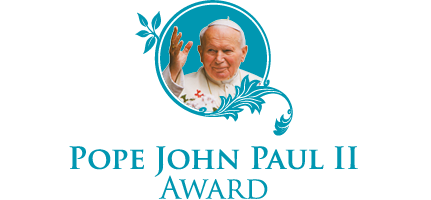 Pope John Paul II Award Logo
The Pope John Paul II Award logo is available to download for use on social media, desktop printing and for commercial printing. Click here to view all available options.