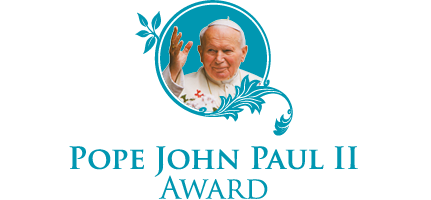 The Pope John Paul II Award logo is used across all of our communications. We want it to be instantly recognisable, so consistency is important – please don't edit, change, distort, recolour or reconfigure it.
The Award logo is available for download in sets that are created for use in each of three categories:
– Microsoft Office documents (desktop printing);
– digital and offset printing (commercial printing); and
– web and social media.
The Pope John Paul II Award logo
The logo can be used in 2 formats – left aligned or centered. If the brand is being reproduced on a coloured background use the white text version.
Colour guidelines
The Pope John Paul II Award taupe colour for desktop and commercial printing and web use.
Logo for printing
Choose the best option suitable for your requirements.
Download the logo set for Microsoft Office
Contains the 2 logo options Download the logo set for commercial printing
Contains the 4 logo options
Guidelines – which Award logo should you use?
Microsoft Office (.png)
Use with Microsoft Word, PowerPoint, or Excel.
Use on desktop and office printers.
This set contains files with a resolution of 300dpi (pixels per inch).
These files may lose quality when enlarged.
How to use the logo with Microsoft products such as MSWord etc.
Download the Microsoft logo set (zip file) above.
Move the zip file into a folder/directory on your PC where you can easily find it.
Unzip the folder.
Open your MS document.
Place the logo into your document by selecting Insert > Photo > Picture from file… choose the logo file you want from within the folder/directory you unzipped the files into.
Commercial printing: signage, digital and offset printing (.eps)
Use in documents and collateral that will be professionally printed.
Use in all signage
This set contains .eps vector files that are compatible with publishing software, such as InDesign and Illustrator.
These logos can be resized without loss of quality and edited for size using Adobe Illustrator.
Using the logo
Here are examples on how to use the logo on various backgrounds.
Logo for social media
Simply 'right-click' the logo below and choose 'save as' to download the image. Then you can use it in a blog post about the Pope John Paul II Award, on your Facebook pages and profiles, Instagram, a pinned Tweet – anywhere you feel appropriate.