As part of the Pope John Paul II Award, students from Blackwater Community School in Lismore, Co. Waterford recently attended a presentation and meeting in the offices of Trocaire in Maynooth, Co. Kildare.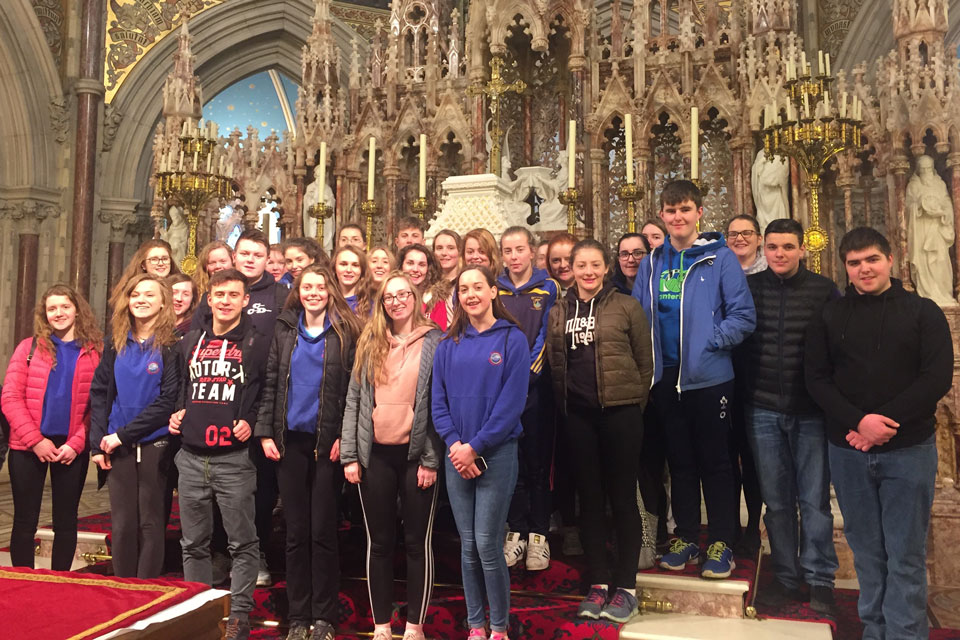 During the presentation, the students were able to see the work of Trocaire through the years, and were given an update on this years 2017 Lenten campaign which was launched on Ash Wednesday.
The students were inspired by the stories and work of Trocaire and encouraged to share what they learnt with the local school, parishes and families.
After lunch, the students were given a tour of St Patrick's College, walking in the footsteps of Pope John Paul II recalling 1 October 1979 when the Pope made his historic visit to the national seminary. They stopped and prayed at the statue of Our Lady as the Holy Father did, and stood at the place where he addressed the seminarians and priests on that historic day in the college chapel.
They also had a tour of the College Chapel – the largest choir chapel in the world. The students were struck at the unique design, height and so many architectural and artistic engravings throughout the college – all in praise of God.
Afterwards, the students got a chance to meet and chat with three seminarians who discussed their call to seminary and their personal stories of how they came to be studying for the priesthood.
After a number of challenging questions, (and a few lighthearted moments) the students ended the day in prayer before heading home back to Lismore.
Pope John Paul II Award activities
Participants in the Pope John Paul II Award earn awards by taking part in parish and social activities – 1 hour per week over 8, 14 or 20 weeks. The Award enables participants to take an active part in the life of their Church – in the life of their community and society. Over 20,000 young people, in 21 dioceses throughout Ireland and the UK have successfully completed the Pope John Paul II Award since it was created in 2006.
Get involved in the Award
If you would like to get involved in the Award in the diocese of Waterford & Lismore, please contact the Award coordinator in Waterford & Lismore, Fr Michael Toomey, at jpiiwaterford@hotmail.com