The Pope John Paul II Award
The Pope John Paul II Award encourages you to go beyond your comfort zone on a journey of self-discovery. It challenges you to give of your time, your talents, your intellect, and your social skills for the well-being of others and for the Glory of God."

The Pope John Paul II Award enables participants to take an active part in the life of their Church - in the life of their community and society. It also enables young people become more aware of the teaching and role of the Catholic Church in the world and to engage at a deep level with Christ.
The Award is committed to helping young people enhance their spiritual, physical, emotional and social development through participation in school, parish and community activities.
A message from the Bishop of Waterford & Lismore
What a joy it was to meet the John Paul II Awards group before and on the day of my episcopal ordination on April 12th 2015. Many visitors on that day spoke about this wonderful group of 'youngsters' who were extremely friendly, helpful and efficient. Well done!
That welcome and warmth are gifts in grace from God. These young people are discovering what it is to be a follower of Christ and a member of his Church, and are part of a group which has the name of a person who lived his vocation as a child of God to an extraordinary degree. He gave everything to God and offered every moment and every ounce of energy for others to God. What an inspiration he is to all!
Like Bishop William Lee, I am delighted to support the Pope John Paul II Awards for our Diocese of Waterford and Lismore, and wish every blessing on all who participate. With Fr. Michael Toomey guiding the group I am very confident it will be of great help to all who participate and produce much good for the whole family of the diocese.
St. John Paul II - intercede for us.

+ Phonsie Cullinan
Bishop of Waterford & Lismore
The Award in the Diocese of Waterford & Lismore
There are 4 Awards - Gold, Silver, Bronze & Papal Cross
Each Award is completed over a 16 month period beginning at the start of the academic year.
Awards are earned by taking part in parish and social activities – 1 hour per week over 8, 14, 20 or 26 weeks.
Those that have completed the Gold Award have a further option of completing the Papal Cross Award.
Gold AwardSilver AwardBronze AwardPapal Cross Award
Diocese of Waterford & Lismore Award Top-Up Suggestions
Award Top-Ups are given in recognition of the extra activities that Award participants are already involved in.
Top-Ups will go towards the total number of hours an individual has to complete.
Papal Cross:
7.5 hours
Gold
: 6 hours
Silver:
4.5 hours
Bronze:
3 hours
Top-Ups can be achieved in a number of ways, for example:
Pilgrimage
Many parishes organise pilgrimages, either specifically for young people, or for the wider parish community, but open to young people. Participation in this type of activity can be part of the Pope John Paul II Award.
Diocesan Youth Activities
On a number of occasions during the year, the schools and diocesan team will organise youth activities such as participation in the diocesan pilgrimage to Knock or Lourdes, arrange Youth Retreat Days or other pilgrimage activities.
Participation in these activities can be part of the Pope John Paul II Award.
Training for Ministry
During the year, the Diocesan Pope John Paul II Committee will extend an invitation for young people to participate in training programmes. These training events can also be part of the Pope John Paul II Award.
There may be other activities that you are involved in that are not included here but may be relevant, if so please contact the Pope John Paul II Award Committee for approval.
Award Handbook
The Award handbook explains in detail how the Award is run and who is responsible for running the Award in your diocese.
On Friday, 8 February 2019 in St Carthage's Church, Lismore, Co Waterford, the Bishop of Waterford ... read more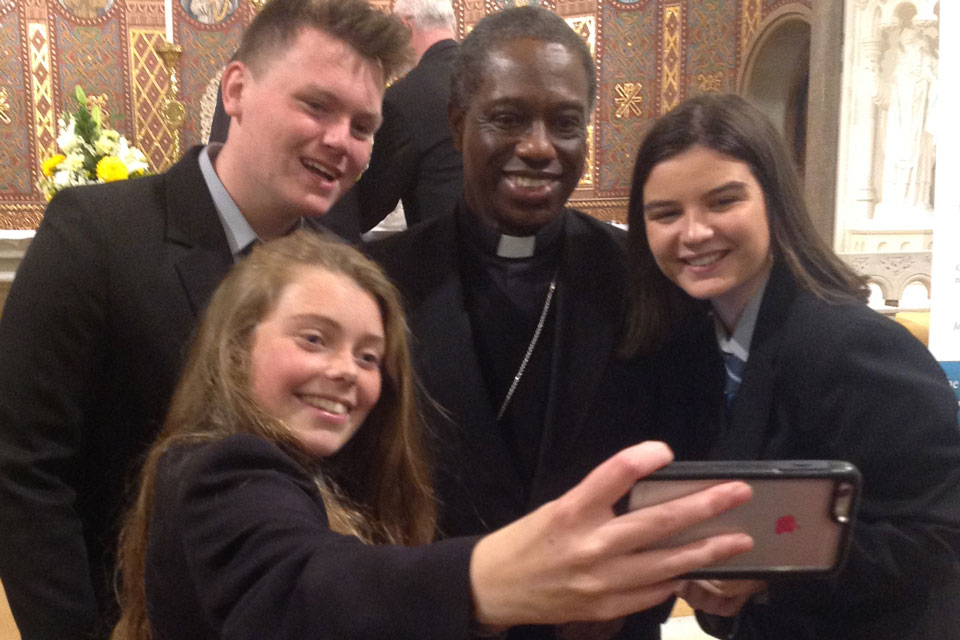 On Friday, 29 September 2017 the diocese of Waterford and Lismore held their Annual Pope John Paul ... read more