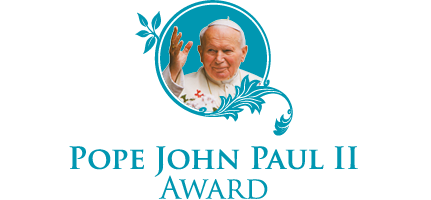 Pilgrimage programme for those taking part in the Pope John Paul II Award pilgrimage to Rome is detailed below and is divided by dioceses. The pilgrimage takes place between Sunday, 29 October 2017 and Friday, 3 November 2017.
Dioceses taking part are split into 4 groups:
Sunday, 29 October 2017 to Thursday, 2 November 2017
GROUP 1 – Diocese: Derry (Group 1)
GROUP 2 – Dioceses: Clogher, Derry (Group 2), Elpin, Ferns, Waterford & Lismore
Monday, 30 October 2017 to Friday, 3 November 2017
GROUP 3 – Dioceses: Cloyne, Derry (Group 3), Kildare & Leighlin, Tuam
GROUP 4 – Dioceses: Ardagh & Clonmacnois, Armagh, Dromore
Pilgrimage programme
Each group has it's own programme which can be downloaded below.
Programme highlights
Mass at Santa Maria degli Angeli
'Seven Churches of Rome' walking pilgrimage lead by Bishop Donal McKeown
Vatican museum including the Sistine Chapel
Penitential service and Mass at San Bartollmeo all'Isola
Morning Mass and tour of the Pontifical Irish College
Coach tour of Rome at night including Trevi Foundation, the Spanish Steps and the Colosseum
Volunteering with Comunitá di Sant'Egidio night service
Morning Mass on All Saints Day in St Peter's Basilica
Angelus in St Peter's Square with Pope Francis
Evening prayer at St Paul's Outside the Walls
Please note: Programme is subject to change.
Pilgrimage help and assistance
There are 11 dioceses taking part in the pilgrimage. The Pope John Paul II Award coordinator in each diocese is the point of contact for each pilgrim. The coordinator will have full information on:
Flight tickets
Accommodation – including room sharing information
Pilgrimage programme
More on this pilgrimage