Bishop Donal McKeown, Bishop of Derry is leading this special 3 day national youth pilgrimage to Lough Derg, Co. Donegal from Friday, 21 to Sunday 23 June 2019.
Described as the Ironman of pilgrimages, Lough Derg is a special place of peace and personal challenge.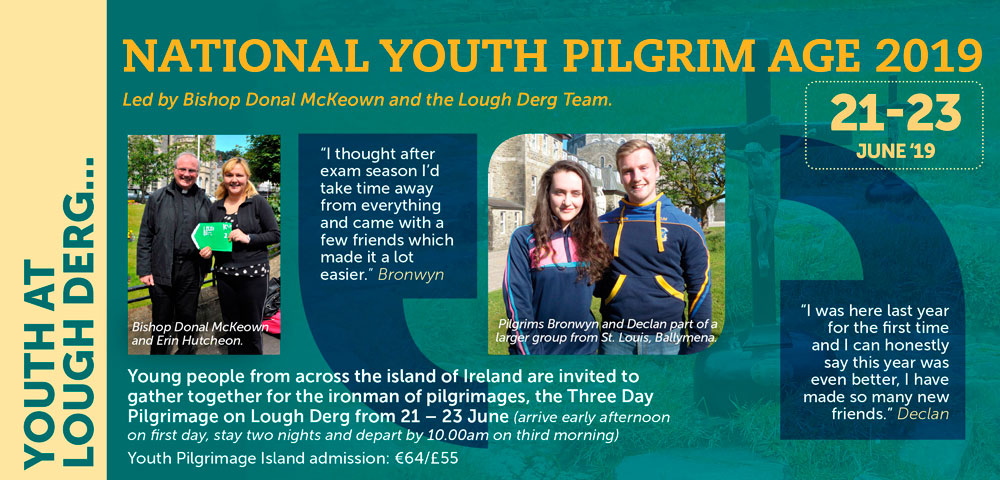 Fr La Flynn, Prior, Lough Derg speaks about people's true experience of the Three Day Pilgrimage

The Pope John Paul II Award is reaching out to all Award participants, Award Leaders and Coordinators throughout Ireland and Britain to come together to join this special pilgrimage.
I was here last year for the first time. I can honestly say this year was much better. I have made so many new friends.
Lough Derg National Youth 3 Day Pilgrimage
21-23 June 2019
The Three Day Pilgrimage is a programme of prayer, fasting (one simple Lough Derg meal each day) walking bare-footed and 24hr Vigil. Without shoes and sleep and little food in our stomachs we are confronted with the essential aspects of life, everything else is stripped away and we can often discover our hidden strengths and rediscover what really matters in life.
Event: National Youth Pilgrimage to Lough Derg
Location: Lough Derg, Co. Donegal, Ireland
Dates: Friday, 21 to Sunday, 23 June 2019
Start time: Plan to arrive 12 noon
Cost: €64/£55
Why Bishop Donal was inspired to launch the idea of a National Youth Pilgrimage on Lough Derg

James talks about his first experience on Lough Derg during the National Youth Pilgrimage in 2018
I thought after exam season I'd take time away from everything and came with a few friends which made it a lot easier.
What you need to know as you plan your 3 day pilgrimage
The pilgrim agrees to undertake the pilgrimage programme of prayer and quiet reflection in bare feet, keeping Vigil and maintaining the Fast. Pilgrims must be physically fit and able to kneel unaided and free from any illness aggravated by fasting.
You will be on the Island for two nights
Plan to arrive around mid-day on Friday, 21 June, the first day of the pilgrimage.
You will stay on the Island until the morning of Sunday, 23 June.
Boat journey to and from the island is less than 10 minutes. Boats to the Island run daily from 11.00am – 3.00pm. Departure on the third day between 9:30am and 10.00am.
Fasting
Fasting begins at 12 midnight prior to your arrival on Friday, 21 June. The period of fasting (one simple Lough Derg meal each day) lasts until 12 midnight on the third day, Sunday, 23 June.
The Lough Derg fast reminds us of the daily reality that faces many people in our world today.
One simple meal is had each day during the Three Day Pilgrimage. The meal consists of tea/coffee (no milk, sugar available) dry wheaten bread & toast, oatcakes. Gluten free bread available. Pilgrims choose when to have their Lough Derg meal during the day, either early afternoon or evening.
On the third day one meal similar to the above can be eaten after leaving the Island & soft drinks can be taken throughout the third day.
Water and prescribed medication allowed at all times.
The Vigil
Your Vigil lasts 24 hours, beginning after Night Prayer on the first day of the pilgrimage (Friday 21st) and ending after night prayer on the second day (Saturday 22nd). There is an opportunity for a pre-vigil rest between 7.30pm and 9.00pm on the first day.
Bring your travel bag and include: warm and waterproof clothing, change of clothing, towel & toiletries, Rosary beads (available in gift shop on Island if needed), prescribed medication, sunscreen, insect repellent, suitable repellent.
Hostel-style accommodation is provided
Male and Female accommodation is separate. Wash basins and foot baths are available to pilgrims in their accommodation location.
Private car parking facilities
There is a large private parking space at the lake shore. Public transport is available from across the island of Ireland. For more information on public transport links contact Lough Derg directly on +353 (0) 719861518.
Safeguarding
Lough Derg adhere's to the safeguarding policy of the National Board for Safeguarding Children in the Catholic Church in Ireland.
Safeguarding Contact: Mary McDaid, Lough Derg Safeguarding Officer
Email: mary@loughderg.org
Telephone: 00353 (0)71 986 1518
Pilgrimage questions and assistance
Cost: €64/£55. Payment can be made on arrival at Lough Derg.
Pilgrims are responsible for their own transport to and from Lough Derg. Pope John Paul II Award participants should liaise with their Award Leader to arrange feasible group transport. This is a challenging pilgrimage. We would recommend young people taking part are aged 17+.
If you have any questions please contact Lough Derg directly.
Website: https://www.loughderg.org/contact-us/
Telephone: 00353 (0) 71 9861518
Email: info@loughderg.org
Promote this pilgrimage
Click to download the poster below.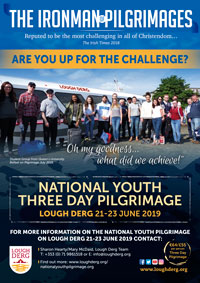 Lough Derg
St. Patrick's Purgatory, Lough Derg, is among the oldest centres of Christian Pilgrimage in Western Europe, dating back to the sixth century. It lies about four miles north of the village of Pettigo in County Donegal, in the Diocese of Clogher, and is renowned in Irish Christian tradition since the time of St. Patrick.