The World Meeting of Families 2018 is an historic and exciting event. The Pope John Paul II Award is delighted to have the opportunity to be a part of it.
EVENT UPDATE:
178 young people participating in the Pope John Paul II Award with their leaders served at the Papal Mass.
View pictures of the day here
.
Over 160 Pope John Paul II Award participants from 8 dioceses throughout Ireland have registered to be part of the distribution of Holy Communion team at the Papal Mass in the Phoenix Park on Sunday, 26 August 2019.
Pope John Paul II Award volunteers at the World Meeting of Families must assemble in the Phoenix Park at 9:30am, Sunday, 26 August 2018. Your Award Leader will inform you of the assembly point. VIEW AND PRINT map and instructions for Ministers of Holy Communion.
Here is important information for all Award participants and leaders volunteering at the Papal Mass.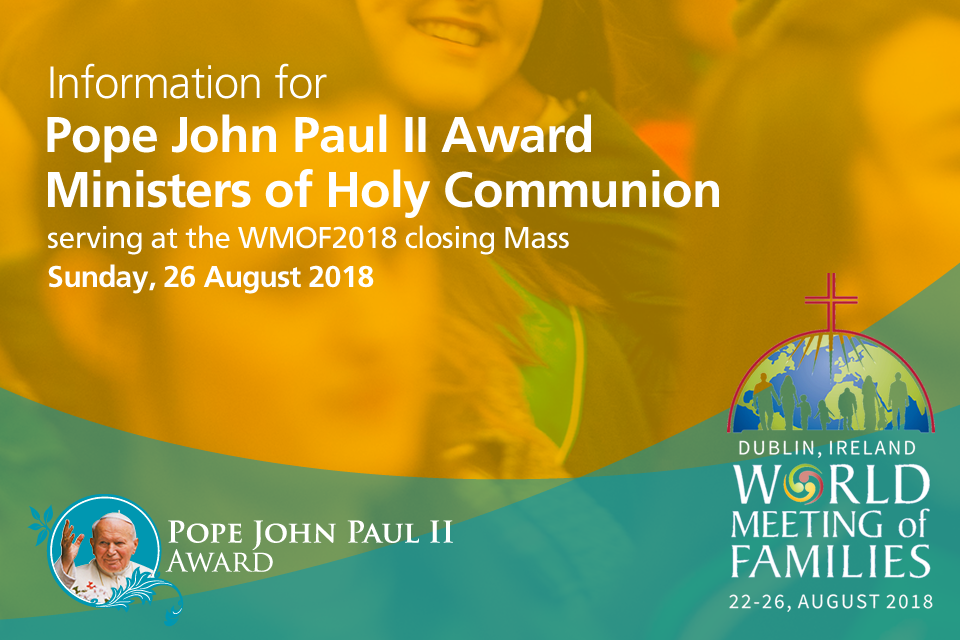 Advice for travelling to and from Dublin (Phoenix Park)
All those travelling as part of The Pope John Paul II Award group, need to assemble inside the Phoenix Park Mass venue at 9.30AM, SUNDAY 26 AUGUST to be guided through how and where each volunteer will minister.
When you receive your ticket for your role, it will include more information on your route to the Phoenix Park and the gate you must enter.
You might also be interested in:
Plan how you will travel to the Phoenix Park well in advance
Contact your Award Leader if you are travelling with your diocesan group.
Allow plenty of time for travel to the event.
You are strongly advised to take public or group transport (coach) to this event.
Public transport and coaches will be given priority and will bring you closest to Phoenix Park.
It will not be possible to drive up to or near to the Phoenix Park by car.
FREE public transport in the Greater Dublin Area
Public transport will be free in the Greater Dublin Area on Sunday, 26 August as long as you have a ticket to attend the Phoenix Park Papal Mass event.
It will be sufficient to show your ticket for the event upon boarding the public transportation service of your choice.
You can find more information on this on the Transport for Ireland website by clicking here.
Travel options and public transport services for travelling to the Phoenix Park
Maps of transport services to and from the Phoenix Park are viewable below. TFI (Transport for Irealnd) advise that passengers need to be prepared for some waiting times because of the high number of passengers travelling to the event.
Maps of transport links and routes: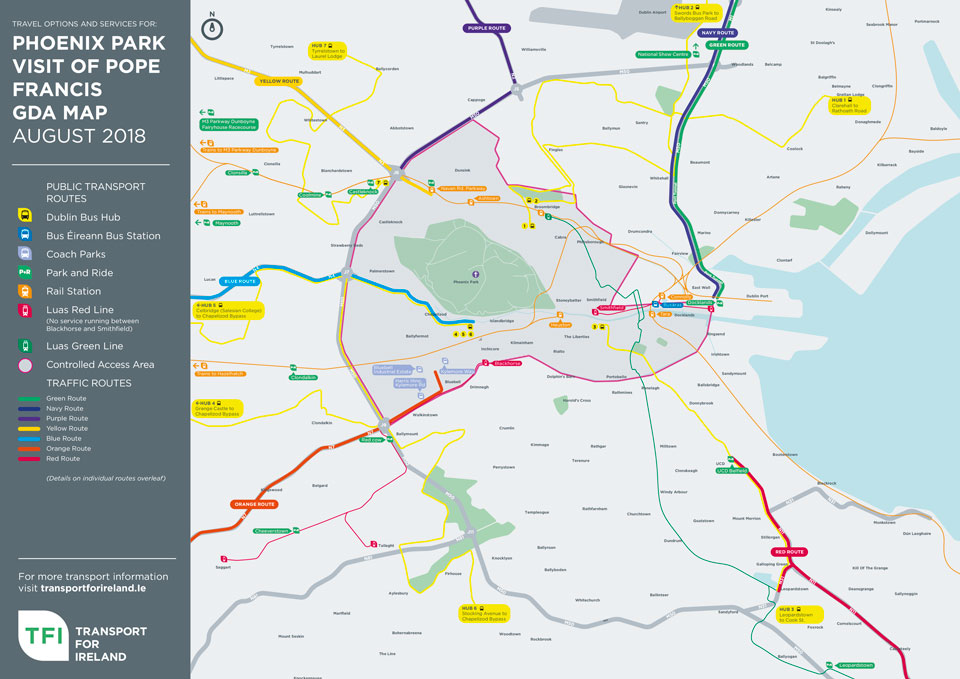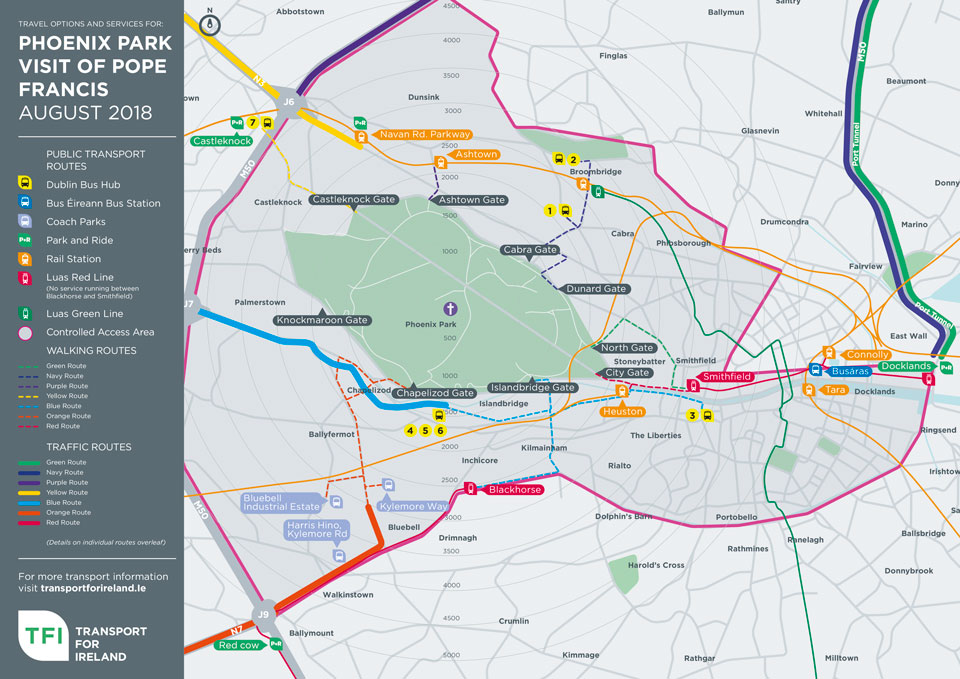 Prepare for walking to and from the Papal Mass
For your safety and welfare, you should plan your whole journey from the beginning of the day until you return home.
You may have to walk for a long distance over the course of the day.
You are likely to be standing for a long period of time.
If you are unsure if you can make this journey or if you have any pre-existing medical conditions, talk to your doctor or other health professional.
Walking is unavoidable due to the size, scale and location of the event.
For your awareness, at minimum you will be required to walk 4km to and 4km from the Mass and up to 7km and 7km, depending on where you are coming from.
The total here gives you an idea of the length of your day. Your journey time from home to M50 + 9 hours + your journey time from M50 to home… it will be a long day!
Food, refreshments and facilities at the event
To help you with your journey there will be a number of supports in place. Designated rest zones will be positioned at regular intervals at the transport hubs, along the walking routes and at the gates. Multiple food and drinks stations will also be available, as will medical facilities, toilets and baby changing facilities. There will be volunteers throughout the venue, at the gates and at the hubs who will be able to give assistance.
Keep in touch with your Award Leader
It is very important that you keep in regular contact with your Award leader in the period up to Sunday 26 August. Your Award leader will have information on your application, transport and instructions specific to the role of minister of Holy Communion at this important event.
Remember the time and date
Group assembly time: 09:30
Date: Sunday, 26 August
Location: Phoenix Park, Dublin
Each Pope John Paul II Award volunteer needs to assemble inside the Phoenix Park Mass venue at 9.30AM, SUNDAY, 26 AUGUST to collect their uniform, ID badge and to be walked through how and where each will minister Holy Communion.
Your entrance ticket as a registered minister of Holy Communion
Your ticket: When your application proceeds successfully through Garda vetting, the WMOF2018 will email your entrance ticket for this role to the email address you provided when you registered. This will be emailed to you before Sunday, 26 August 2018.
If you are 16 – 17 years you must be accompanied by an Award Leader.
Help us keep you informed
To allow us to email you the most up-to-date information on the Pope John Paul II Awards role of minister of Holy Communion at the WMOF2018, please submit your name and email below.

We do not share your information.
See our privacy policy
Questions and assistance
If you have any questions on your application, vetting or transport please contact your Award Leader or email your questions to: admin@thepopejohnpauliiaward.com. We will be delighted to help.