On Monday 10, February, 2020 the Diocese of Derry held their 13th Annual Pope John Paul II Award ceremony in the Millennium Forum, Derry City.
Archbishop Franz Lackner, the Archbishop of Salzburg, and Bishop Donal McKeown presented the Pope John Paul II Award to 549 young people from all over the Diocese of Derry and beyond.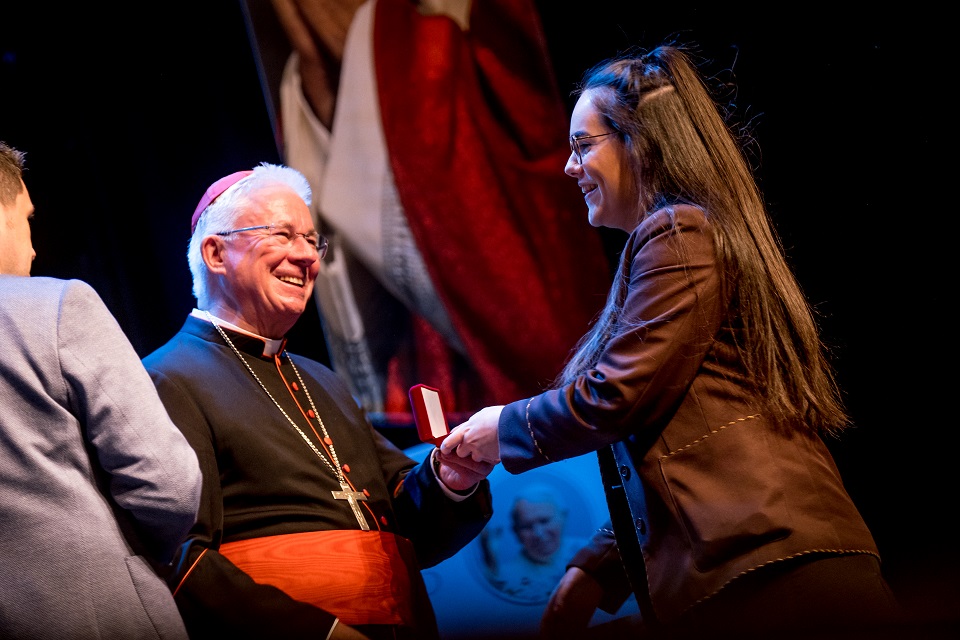 549 young people receive the Pope John Paul II Award
The 549 young people who received their Award came from 20 second level schools representing 47 parishes in the diocese and 20 parishes from outside the diocese. This year two people also received the Papal Cross Award.
Archbishop Lackner told the young people present of the great impact Pope John Paul II had on his life.
John Paul II had and has a huge impact on my priestly life. In 1978 I was a United Nation soldier in Cyprus. By that time, I had lost the most precious gift given to me by my parents, the faith in Jesus Christ our Lord. At the same time John Paul II was elected Pope. And this had a profound effect on me. As a result, I rediscovered my faith. And it was John Paul II who appointed me as Bishop in Austria. For 11 years I was Auxiliary Bishop in Graz and in charge of the young people. John Paul II was always in my heart."
The Pope John Paul II Award continues to be the largest youth movement in the church in Ireland. In the last twelve years about 35,000 young people have enrolled to participate in the Award. In Derry Diocese since the award began 5,400 young people have received their Award.
Reverend Paul Farren, Director of the Derry Diocesan Catechetical Centre said of the Award,
At a time when bad news is too often what we hear, the Award continues to be a Good News story in the Church in Ireland and beyond. For the most part it continues to be a quiet story that is not too loudly told. However, it does give powerful evidence that the church is neither dead nor dying- the church is alive and it is young."
Bishop McKeown reiterated this sentiment by thanking the young people who took part in the award when he said,
We gather here today to celebrate the good news that you are – and to enable you to get encouragement from hundreds of others who want to do something great. I thank you for your commitment to making a difference. Your communities' benefit from the work that you have done – but they also benefit from seeing your being involved. You have done useful things, but you have also lifted many hearts, often without knowing it."
Get involved in the Award
If you would like to get involved in the Award, please contact the Award coordinator in Derry, on 028 7126 4087.