A day to remember Donal Walsh and celebrate #LiveLife will take place at Knock Shrine on Friday, 11 May 2018.
Reflect on what it means to Live Life!
Donal's message is to cherish life and live life. That is the theme of the day. This day event is being offered to students in Transition Year, 5th Year, Year 11 and Year 12 from all over Ireland. The day promises to be an inspiring experience and a chance for students to come together from across Ireland at the end of the academic year, kick start the summer and reflect on what it means to Live Life!!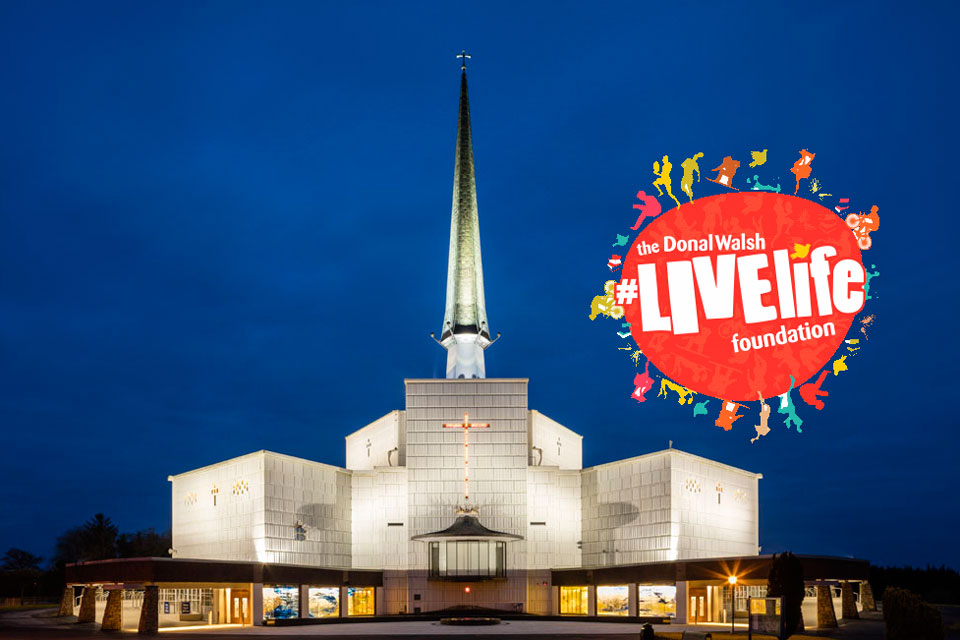 Donal Walsh #Livelife Foundation
Donal Walsh was from county Kerry. He touched so many lives when he came to prominence through his writings and subsequent appearance on Brendan O'Connor's 'The Saturday Night Show' on RTÉ Television. Donal who fund raised tirelessly while battling cancer has now had the Donal Walsh #Livelife Foundation set up by his family primarily in order to promote his anti-suicide #Livelife message.
About the event
This promises to be an inspiring, reflective and engaging day.
Guest speakers
Donal's mum, Elma Walsh;
Joe Schmidt – Ireland rugby coach;
Ian McKinley – Rugby union player;
Fr Dermot Donnelly, Youth Ministry Trust – Diocese of Hexham and Newcastle, England;
Fr Philip Mulryne O.P, Dominican Friar and former professional football player; and
Istvan Markuly, permaculture designer.
Music
Music Generation Mayo
Date: Friday, 11 May 2018
Time: Starts at 10:00am. Mass at 1:30pm
Location: Knock Shrine, Co. Mayo, Ireland
PROGRAMME:
10:00am Arrival at Knock Basilica & registration
10:30am Welcome – Fr Richard Gibbons & Elma Walsh
10:50am Explanation of workshops and ice breakers
11:00am Joe Schmidt and Ian McKinley followed by Q & A
11:40am Fr Philip Mulryne – Living life to the full
11:40am – 1:00pm Choice of workshops
Istvan Markily – Care for our common home
In memory of Donal – #LiveLife
Music generation
Chill out & games
The prayer cube
The Apparition
Knock Museum
Fill Holy water bottle
1:00am Why do we go to Mass?
1:30pm Mass – celebrant: His Excellency Archbishop Jude Okolo, Papal Nuncio to Ireland. Homily: Fr Dermot Donnelly
2:30pm Refreshments – The Rest & Care
3:00pm Depart
Please note: programme is subject to change
Make your school part of this event
Bookings for schools planning to attend this event is essential.
For more information and to book your school, contact Knock Youth Ministry:
Telephone: 00353 (0)94 375321 or 00353 (0)94 9388100
Mob: 00353(0) 8769 27850
Email: knockyouthministry@yahoo.ie
Subscribe to the Pope John Paul II Award YouTube Channel
donalwalshlivelife.org/ and https://www.facebook.com/DonalWalshLiveLife
Donal Walsh 5th Anniversary event poster
Click the Donal Walsh 5th Anniversary event poster image below to download, print and display in your school.