Pope John Paul II Award participants earn their Award by taking an active role in their parish and in activities which build social awareness.
Examples of Award activities from around the country
The parish and social awareness activities listed below show what participants are doing in some dioceses. This is not a definitive list, but for guidance and ideas for JP2 participants and Award Leaders.
A more detailed list can be download in pdf format for printing and easy sharing.
Download list of examples of Parish & Social Activities
Download
Diocese of Derry – Examples of Parish Involvement Activities
Reading at Mass
Basket collector
Counting money from weekly collections
Member of the Choir/Folk Group
Church decoration/Cleaning
Children's Liturgy
Eucharistic Minister
Hands That Talk
Offertory Gifts
Parish Youth Council
Passion Play
Preparing Articles for Parish Bulletin
Youth Alpha
Hike to Croagh Patrick (Top Up)
Hope Camp (Top Up)
Pilgrimage to Lourdes (Top Up)
Retreats (Top Up)
Diocese of Derry – Examples of Social Awareness Activities
Faith Friends
Foyle Hospice
Ongoing fundraising
Music Tuition at Community Centre
Organising Christmas Shoebox Appeal in School
Peer Mentoring
REACH Across
Red Cross
St Vincent de Paul
St John's Ambulance
Sports Coaching
Volunteering Disability Charities
Volunteering in Charity Shops
Volunteering in Youth Clubs
Volunteering in Community Centre
Visiting Residential Homes
Visiting Hospitals
Visiting Primary Schools
Youth Club Residential (Top Up)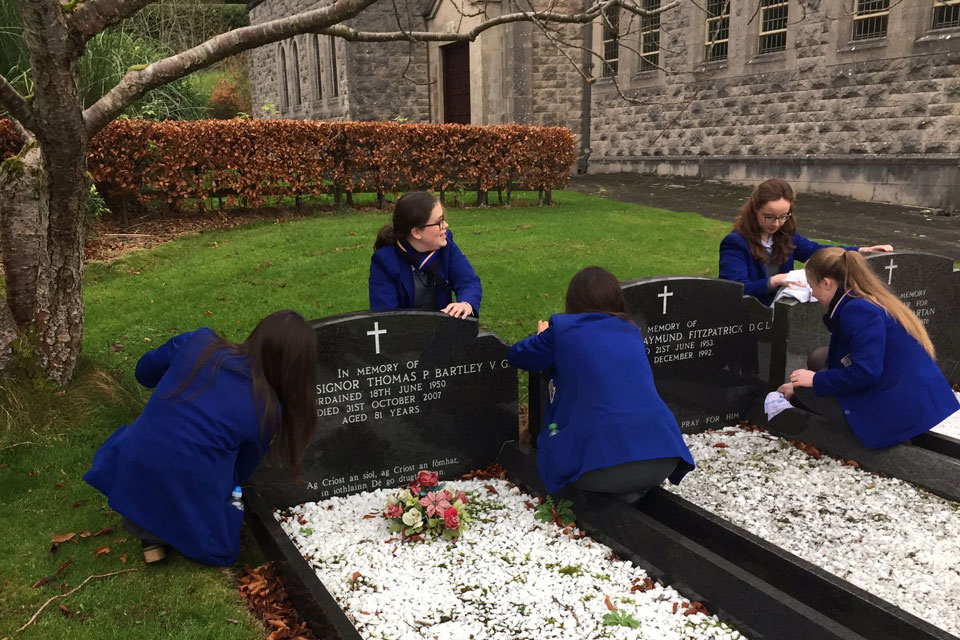 Archdiocese of Tuam – Examples of Parish Involvement Activities
Adoration Club in School
Awakening Concert
Clean local Church and playground
Eucharistic Ministers
"New Dawn" diocesan magazine – Contributing articles, pictures and stories
Member of New Dawn Editorial Board
Members of parish youth group
Parish choir
Friends of Faith Youth Club
Distributors of Church envelopes
Assisting with parish Facebook/webpage
World Youth Day
Promote Catholic Schools Week
Form a school chaplaincy team
Climbing Croagh Patrick
Decorating Church/School Oratory
Collected/Distributor of newsletters/leaflets/prayer cards
Youth Member of Pastoral Council
Filling Holy water bottles
Christmas Carol Service
Distribute flowers for Mother's day in the parish
Involved in Easter liturgies
Sacramental preparation for 1st Holy communion /Confirmation children
Help erect the crib and parish Christmas trees
Dawn Easter Mass
Get involved with launch The New Dawn" diocesan magazine in the parish
Facilitating a game of "Who wants to be a Christian millionaire" in the school during Catholic Schools Week
Carers and helpers to children with special needs alongside Fr. Mike Murphy for the Easter pilgrimage to Lourdes
Michaela Camp youth leader
Parish youth summer camp
Church gate collections
Parish Powerpoint Display
Peer for Peer
Readers
TY Parish Projects Day
Trocaire – Social Justice Day
Youth 2000
Morning Prayers at School over intercom
Creating a remembrance garden
Making St. Brigid's crosses
Creating and distributing Exam Prayer Cards
VAKS – Volunteer@Knock Shrine
Young SVP Day
Archdiocese of Tuam – Examples of Social Awareness Activities
Visitors to local nursing home
School choir member
Referees at local soccer blitz
Member of Youthbank
Musicals
Mentors
Student council members
Charity colour run
Under age training
Cycle against Suicide
Trad for Trocaire
Open night in school
Organising personal development day
Flag day for the school
Helping at 1st year science quiz
Volunteering at local animal shelter
Helping out at senior citizens party
Meals on Wheels
Working with Faith and Light group
volunteering in local charity shop
Stay Awake vigil night in the school for refugees
Putting on movie night, party and disco for 1st years
Visiting the Alzheimer's home
Western Care
Daffodil day fundraiser
Charity cake sale
Litter picking/Green schools/Tidy towns
Big brother, Big sister
Darkness into light
Helping at local agri show
Shoe Box Appeal
Food Collection at Christmas for Homeless
School Orchestra
Face painting at local primary school sports day
Pay it Forward day at School
Positive Mental Health Week
Involved in creating and sending cards to those who were out sick during the school year, or had a bereavement
Fundraising for local charities
Irish wheelchair association
Special Olympics
Irish Heart Foundation collection
Pink Ribbon Cycle
Irish Cancer Society
Taking part in the annual mini marathon for a charity
Ability west
Community games
Friends of Belarus
Teaching dance, music, art, etc
Brownies/Scouts/
Foroige/No Name club leadership role
Bingo For Seniors
5km for Chernobyl
TY carwash for charity
Sleepout for charity
European youth parliament
Leadership for Life course
Homework club
Tractor Run
First Aid/Order of Malta
Download list of examples of Parish & Social Activities
Download
Let us know what you are doing
If there are activities you are doing which are not listed here, let us know about them so they can be shared with all participants.
Contact us:
Award head office
Telephone: 028 7126 4087 (from Republic of Ireland: 048 7126 4087)
Email: admin@thepopejohnpauliiaward.com
Twitter: @JP2Award