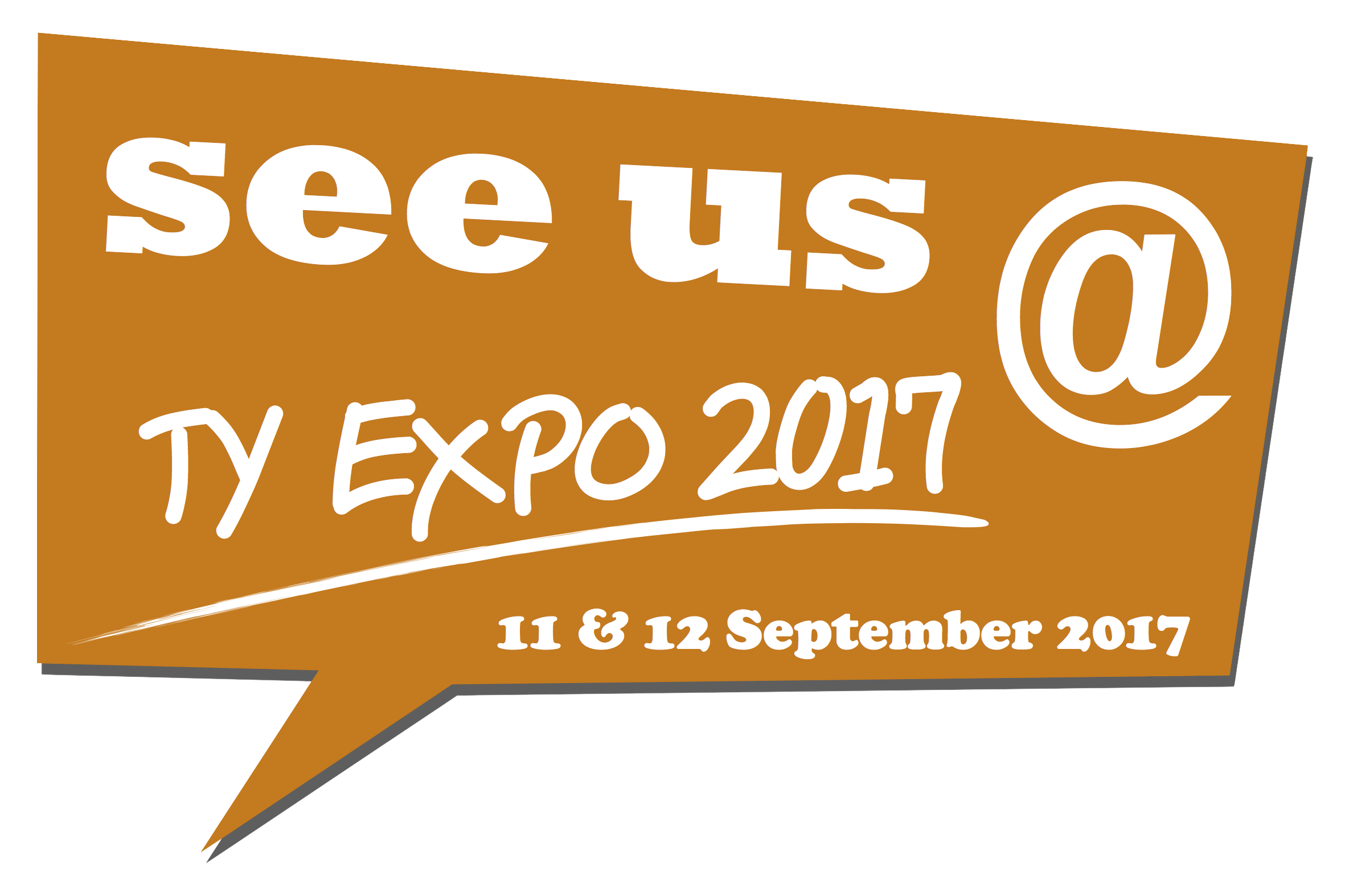 Event update
Transition year students from schools in 14 dioceses running the Award met us at our TY Expo stand. We were delighted to meet everyone.
See the pictures from the event: TY Expo 2017 in pictures
We're exhibiting at TY Expo 2017
TY EXPO 2017 takes place at Punchestown Racecourse Event Centre on Monday 11th and Tuesday 12th of September 2017.
Transition Year Ireland (TYI) is an Information Resource for Transition Year Students, their Teachers and their Parents. Its aim is to provide access to the vital information needed for a stimulating and challenging Transition Year. TYI help teachers and parents inform students about TY opportunities, activities, programmes and initiatives available to them.
The Pope John Paul II Award is delighted to be exhibiting this year. We're really looking forward to meeting lots of the 7,000 people expected to attend, answering questions on the Award and explaining how useful the Award is to anyone in Transition year.
We will have information for TY students seeking volunteer opportunities, activities and programmes in their schools, parishes and communities. We will also have information and advice for RE teachers and Award leaders looking to lead TY groups in their schools and parishes.
TY Expo exhibition times and location
The venue will be open for exhibitors to set up from 2pm – 7pm on 10th September (Sunday) and exhibit breakdown will be after 2pm on 12th September (Tuesday).
Exhibition open to public
Monday, 11th September 10:00am – 5:00pm
Tuesday, 12th September 10:00am – 2:00pm
Location: Punchestown Racecourse, Naas, Co. Kildare. The venue is a 10 minute drive from both the N7 and N81 and is within 25 minutes from the M50 (Red Cow).
Getting to Punchestown Racecourse by car
From Dublin Airport – 48kms (30 miles) M1, M50, N7, R410
From Dublin City – 35km (22miles) N7, R410
From Belfast – 2hrs, 20mins, M1, M50, N7, R410
From Cork – 2hrs, 40 mins, N8, N7 R410
From Galway – 2hrs, 50mins M6, M4, M50, N7, R410
Visit us at stand F05
Look out for us at stand F05, opposite the Gaisce stand. For your convenience, a floor plan of the exhibition hall is below as well as a list of exhibitors.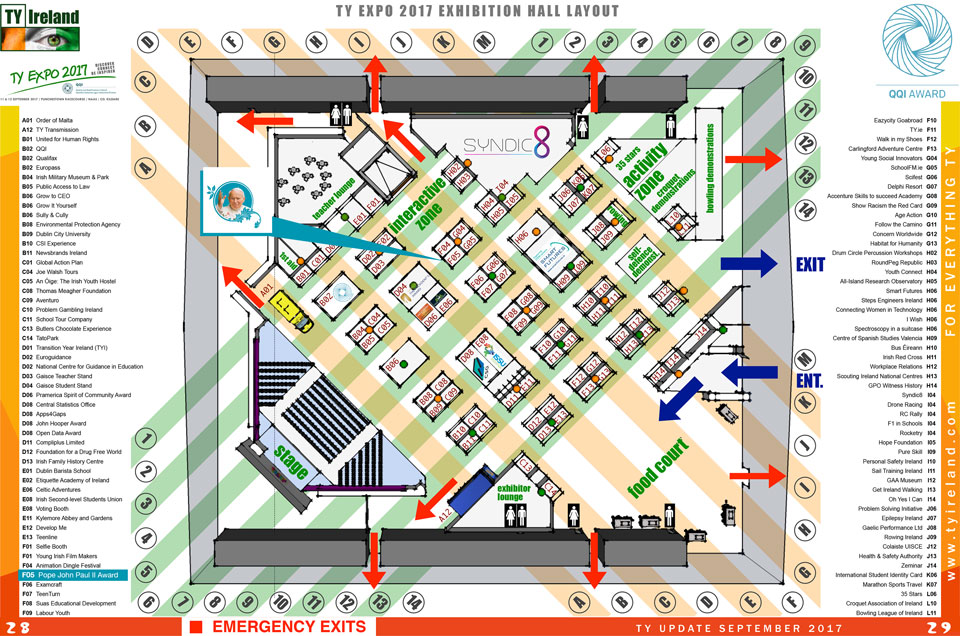 Let us know if you'll be there. Follow us on:
Twitter
Facebook
Instagram
The Pope John Paul II Award for Transition Year Students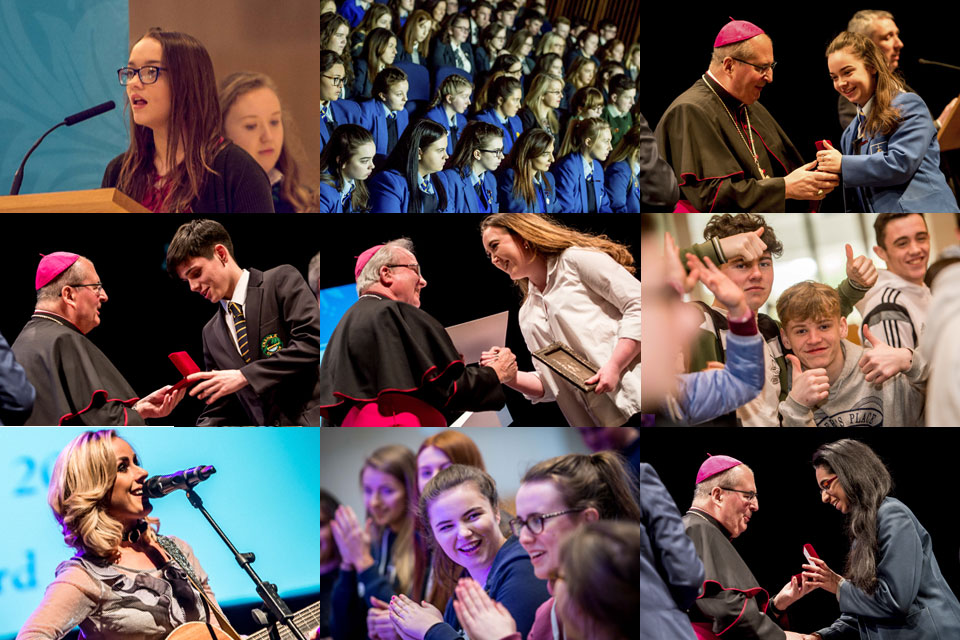 The Pope John Paul II Award is committed to helping young people enhance their spiritual, physical, emotional and social development through participation in school, parish and community activities. As well as the feeling of personal achievement that a participant will gain from taking part in the Award, participation will help demonstrate the young person's commitment to a task and goal.
The Award is for anyone between the age of 16 and 18. The Award is run by the Diocese and is suitable for:
Students in 4th Year
Students in full-time education who have completed Junior Certificate
Students in Transition Year
It is non-competitive, flexible and voluntary and requires an ongoing commitment. Awards are earned by taking part in a parish and a social activity for 1 hour per week over 8, 14 or 20 weeks. There are 3 Awards – Gold, Silver & Bronze.
Get involved in your parish and community
Examples of activities in the parish that can be done for the Award are:
Reading at Mass
Altar Server
Eucharistic Minister
Member of choir/folk group
Church decoration
Collector
Composing prayers of the faithful
Preparing articles for the parish bulletin
Examples of activities in the area of Social Awareness that can be done for the Award are:
Participation in St. Vincent de Paul projects
SPRED volunteer
Faith and Light
Working in a youth club
Ongoing fundraising
Regular visitation of residential homes
Faith Friends
Over 25,000 young people have achieved the Award since it started in 2006. The Award is running in 21 dioceses throughout Ireland.
Find out more about the Award in your Diocese
If you would like to find out more about the Award, or are doing Transition Year, contact us. We'll connect you with the Award leaders in your area.
Telephone: 0044 (0)28 7126 4087
Email: admin@thepopejohnpauliiaward.com
More on this story