Masses for Sunday, 2nd April and Wednesday, 5th April 2017
We ask that all Pope John Paul II Award participants are prayed for at all Masses on Sunday, 2nd and Wednesday, 5th April, to wish them well for their trip to Knock and to thank them for all the work they do in our parishes and communities.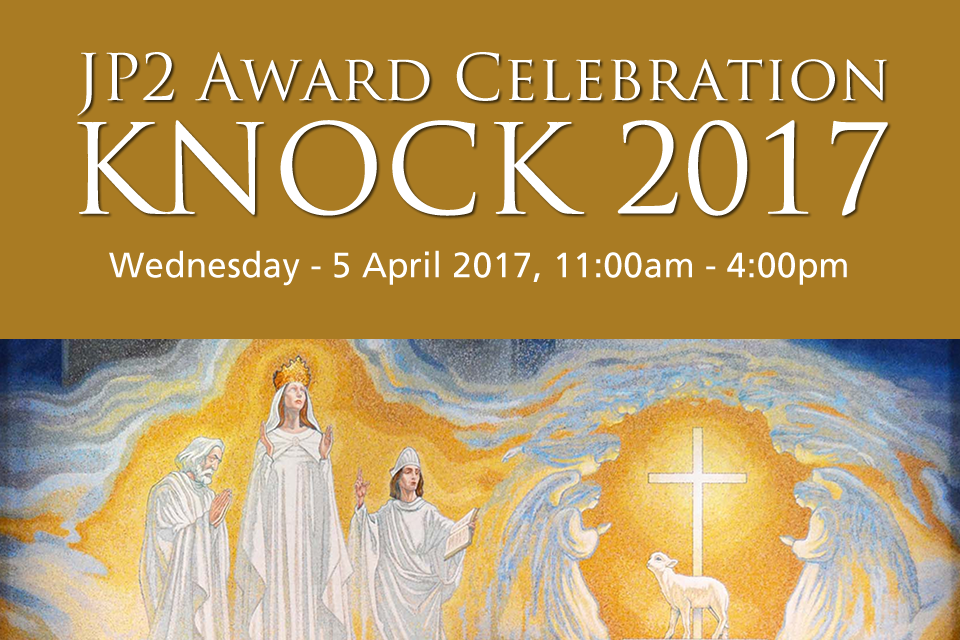 Pope John Paul II Award 10 Year Celebration at Knock Shrine
The Pope John Paul II Award was created in 2006 to commemorate Pope John Paul II who was so committed to young people and who had such belief and confidence in them.
On Wednesday, 5th April 2017 the Pope John Paul II Award will host a special celebration day at Knock Shrine, Co. Mayo to mark 10 years of the Award and the countless achievements of more than 20,000 participants from 24 dioceses across Ireland and Britain.
Date: Wednesday, 5th April 2017
Location: Knock Shrine, Knock, Co. Mayo
Time: 11:00am – 4:00pm. Celebration of the Eucharist 3:00pm
All Pope John Paul II Award participants, past and present, are invited to take part in this special celebration, along with their Parish Leaders and Award Leaders.
Celebration Prayer
God our Father,
Saint John Paul II tells us to trust Christ;
To listen attentively to his teachings,
To fix our eyes on his face,
To persevere in listening to his Word,
To allow him to focus our search and our aspirations and all our ideas and the desires of our heart.
Help us Father, to do this so that all the actions and decisions of our lives are done with Jesus who is our Saviour and friend for ever and ever.
Amen.
Our Lady of Knock pray for us and for the young people in Ireland.
Prayer of the Faithful for Sunday 2nd April 2017
Priest: In this season of Lent we open our hearts to God who is one who can unbind us and set us free.
For Pope Francis and all leaders in the Church:
that they will stay close to Jesus and lead us ever more deeply into the tenderness and compassion of God.
Lord hear us………………
For all political leaders:
that they will work, not for their own gain and power, but for the weakest and most vulnerable in our society.
Lord hear us………………
For all young people, especially those participating in the Pope John Paul II Award and all those that have achieved the Award over the last ten years:
that they will continue to serve God in the Church and in their community by living the Gospel faithfully.
Lord hear us………………
For ourselves:
that we will truly believe that Jesus is the resurrection and the life and that we will live our lives focusing on the gift of eternal life with God.
Lord hear us………………
For those who are struggling with the gift of life, especially for young people who find life hard:
that they will find hope and joy in a close relationship with Jesus.
Lord hear us………………
For those who have died, especially …………………:
that they are now in the company of Mary, Saint Pope John Paul II and all the saints in the presence of God for ever.
Lord hear us………………
Priest: Loving God, we thank you for the gift of our faith. We thank you for the gift of the Pope John Paul II Award. Help us to remain faithful to you as active members of our Church community living out the Eucharist by the way we treat one another. We make this prayer through Christ our Lord. Amen.
Information on the event
If you require any more information on this event, please contact the Award office:
Telephone: 0044 (0)28 7126 4087
Email: admin@thepopejohnpauliiaward.com
Full details of the event can be found here.