On Sunday, 2nd April, Palm Sunday, Bishop Fintan presented John Paul II Award Awards in St. Patrick's Cathedral, Skibbereen, Co Cork.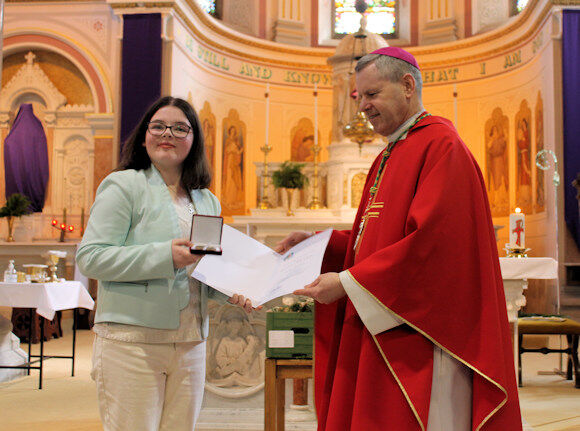 The recipients were Rachel Crowley (Skibbereen), Ciara Dennehy Castlehaven Parish), Molly Gregory Long (Skibbereen) and sisters Megan and Kassey Collins (Rath & The Islands Parish) represented by their mother Anne. James O'Connor from Douglas Parish was also awarded a Gold medal.
Participation for all recipients commenced a few months before the start of the Covid pandemic. Their efforts during this stressful time was truly exemplary, involving local community service to the elderly, helping out in St Patrick's Cathedral, Rath and the Islands and Castlehaven Parishes by welcoming parishioners, cleaning and sanitising the pews after Mass, proclaiming the Word of God at Mass, visiting residents in retirement homes and hospitals whilst assisting staff, and contributing their time to charities, and other good works, working tirelessly throughout Covid.
The parishes involved are very proud of the recipients in that there are six Pope John Paul II Award recipients from the Diocese of Cork and Ross this year.