Pope John Paul II Award National Pilgrimage to Knock Shrine
Tuesday, 22nd March 2022
To be forgiven you must forgive (Mt 18:21-35)
It is now almost three weeks since we began out Lenten journey, which dared us to challenge ourselves to break bad habits and to discover that we don't have to be slaves to our appetites. And it is now almost four weeks since our news bulletins became saturated with horrible news of the Russian invasion of its neighbour Ukraine. What might all that say to Christ's followers this year?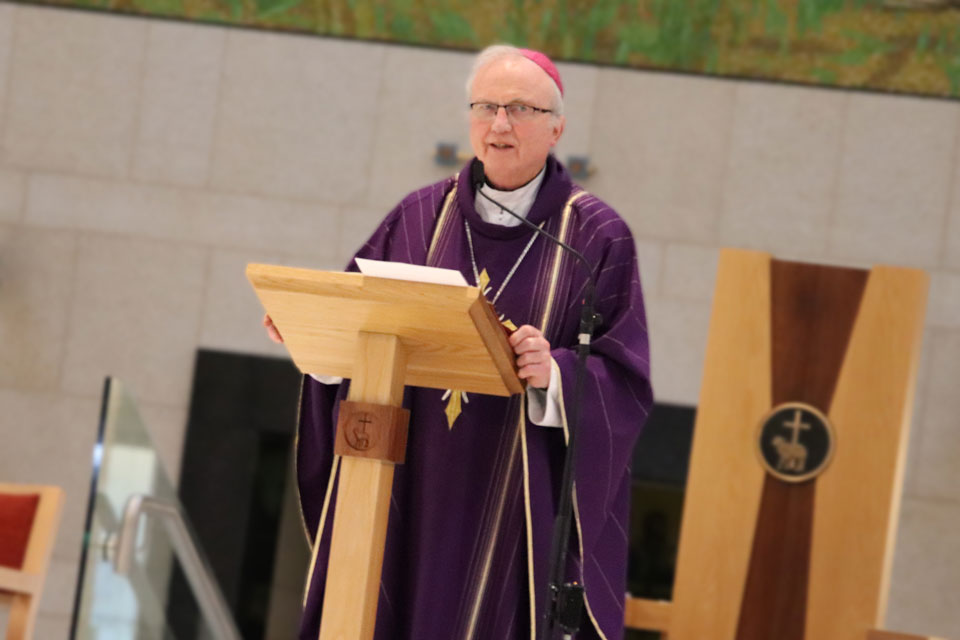 Firstly, I have a been struck by two things. One is the huge generosity of many people who have responded generously to the plight of Ukrainian refugees. And the other thing is the huge numbers of especially young Ukrainians who seem prepared to give their all in defence of their country. It is one thing for soldiers to fight. They have chosen to be armed and trained. What touched me was the numbers of students and other young people who are prepared to resist a heavy equipped army – whatever the cost. Some of them were quoted as saying that they would not be able to live with themselves if they were nor ready to take part in defending their home and their future
And why did this strike me so much? Despite a consumerist culture which says that it is all about me and my choices, millions of young Ukrainians believe that there are more valuable things than my comfort, that there are values worth living for and worth dying for. And many of them will die. The culture that saturates us in self-indulgence is not having the upper hand. That is a great sign of hope.
Secondly, this is not my message. It is one that Pope Francis loves to keep repeating. In Christus Vivit he quotes Carlo Acutis who died a saint in 2006 – 'everyone is born as an original, but many people end up dying as photocopies'. He is clear that you are called to be a hero, as saint – but that commercial pressures can make money out of you, only by making you a slave of you want what they sell. Some of you may have heard me quote a young woman, a 27 year old doctor, who last September entered a convent of sisters who are committed to loving Jesus and cherishing life, speaking about her initial training told me, "They have asked me to give up so many things that I was told I needed to be happy – and I have never been happier." Pope Francis is inviting the young and the young at heart to create a counter-culture that cherishes truth and love over silly games and using other people. He sees to many young people who are disorientated, unsure in what direction to turn. He wants you to dream great dreams and to share those dreams with one another. Becoming a saint does not mean draining the life out of yourself. It means getting steam-cleaned from all the rubbish that grows on us and slows us down. It means making you fit for doing great and generous things with your life. It means answering the profound question that Jesus asked two of his disciples, What are you looking for? (John 1:38) Know your deep desires. Don't look in shallow places. Believe in a God who calls you to do great things with your life.
Thirdly, this Friday 25th March, we celebrate the Feast of the Annunciation. The Angel Gabriel announces to the young woman Mary that she has been chosen to be the Mother of Christ. But she has to agree. She argues with the angel – because this task will mess-up all her plans. She is not just taking on a job. She is surrendering to the will of someone in whom she is asked to trust. But, in the end, she says, let it be done to me according to your will. As Pope Francis writes, Hers was the yes of someone prepared to be committed, someone willing to take a risk. Ready to stake everything she had. She did not take out an insurance policy. Her yes and her desire to serve God were stronger than any doubts or difficulties. (Christus Vivit 44)
Here in Knock, Our Lady appeared to poor people just a couple of decades after the horrors of the Famine. Mary wants to give hope a people who felt left out. The same happened in Lourdes and in Fatima. God comes to little people. And God believes that those whom the world thinks little and unimportant can do marvellous things. And that the big-headed and famous have little to offer. That is the counter-cultural message that Christ's followers are called to witness to. Are you prepared to take it seriously – or are you too afraid to dream of becoming a saint?
Thank you for coming to Knock today. This is not a pilgrimage to squeeze you into a tight religious mould. That is where consumerist culture is trying to force you. Jesus wants you to develop into the great person that he knows you can become. Jesus shows us the example of his own life where he gave himself and everything he had for people. We see that in Mary and in so many saints. Pope John Paul II said in Ireland nearly 43 years ago, Young People of Ireland, I love you. God still tells you that you are loved and precious beyond measure. Come close to the heart of Jesus and Mary in prayer. Worship Jesus in the Eucharist for he is the one who gives his all for you – and who invites you to give your all for something beautiful and not for something passing.
In the days we remember the suffering young people of Ukraine. We ask that Jesus will support them. We thank them for their generosity and self-sacrifice. And we ask that we, too, will be open to being generous and heroic in your time, in your place, in your way – for that is what we are all called to be.
Pope St John Paul II, pray for us.
Our Lady of Knock, pray for us.
+ Donal McKeown