The Pope John Paul II Award
The Pope John Paul II Award encourages you to go beyond your comfort zone on a journey of self-discovery. It challenges you to give of your time, your talents, your intellect, and your social skills for the well-being of others and for the Glory of God."

The Pope John Paul II Award enables participants to take an active part in the life of their Church - in the life of their community and society. It also enables young people become more aware of the teaching and role of the Catholic Church in the world and to engage at a deep level with Christ.
The Award is committed to helping young people enhance their spiritual, physical, emotional and social development through participation in school, parish and community activities.
A message from the Apostolic Administrator of Cloyne
In the course of my visits to post-primary Schools, I have discovered that there are two quotations which every student recognised instantly. The first is: Who said,
"I have a dream"
. The second is:
"Young people of Ireland I love you"
. I had the privilege of being present in Galway on that memorable day when the young people of Ireland, three hundred thousand of them at least, exploded into clapping, cheering and singing. It went on for fifteen minutes before the Holy Father could finish his homily.
Less well remembered were his words, "I believe in youth, I believe in youth with all my heart". I think that it is most fitting that these Awards for young people who are outstanding in their participation in the life of the Church and this local parish and community should be called after Pope John Paul II.
I wholeheartedly welcome the establishment of these Awards in the Diocese of Cloyne and look forward to being present on Tuesday, 31st January when they are presented.
Pope John Paul II established the World Youth Day and his successor, Pope Benedict XVI, has kept up the tradition. Indeed, Pope Benedict is also on the wavelength of young people as evidenced in Cologne, Sydney and Madrid. I have seen for myself the very positive change in the lives of the young people who have been privileged to attend World Youth Day down the years. If I might allow a number of them to give their own accounts: Aoife: "I found the trip to Madrid amazing. A unique experience. It was great to see young people practising their faith without any inhibitions".
Seamus: "I have no difficulty in saying that World Youth Day was one of the most significant events in my life".
Eddie: "On arrival in Madrid, nothing could have prepared us for the heat and the sheer volume of the crowds. It was an eye-opening experience to let us see first hand how other nationalities profess their faith and devotion to the Catholic Church. It was a far cry from standing at the back of the church on a Sunday morning at home. A number thought the Prayer Vigil was memorable despite the storm and the rain. We slept under the stars on Saturday night while singing and dancing continued until the small hours. Confessions continued through the night and I personally had the wonderful experience of a deeply honest and moving Confession. It gave me a wonderful feeling of peace and reassurance".
Aishling:
"I had the honour to be close to the Pope at the Prayer Vigil. As the Pope began, a massive thunderstorm began and a lot of people began to panic and rush for shelter. But the Pope said: "coraggio amigos, courage friends" and they began to chant "Benedicto, Benedicto" and this continued until the storm ended. I can honestly say my faith has firmed and become stronger ... remember the theme of World Youth Day was Firm in the Faith: Rooted and Built-Up in Jesus Christ"
.
Seamus again: "It was with a heavy heart I left Madrid since I had grown so attached to the spirit and emotion of World Youth Day. But I left stronger in my faith with a positive outlook on my future. Contribution to my parish community from now on. We are called to be examples of Christ's love and I am more confident now than ever that I am capable and willing and I am not alone."
Rosaleen: "I hope I can travel to Brazil in 2013 (for the next World Youth Day). My pilgrimage to Madrid with Cashel & Emly (group) has really strengthened my faith and has given me a sense of calm that I could never have found anywhere else".
Jack from World Youth Day 2005: "For that week in Cologne it was cool to be a Catholic and I was proud of my faith. We prayed together, we sang and we danced together. We never had such fun and it was only afterwards that we realised that we hadn't had a single drink all week!"
I think Pope Benedict caught the spirit of the Pope John Paul II Award in his homily in Madrid when he said: "Having faith means drawing support from the faith of your brothers and sisters, even as your own faith serves as a support for the faith of others. I ask you, dear friends, to love the Church which brought you to birth in the faith, which helped you to grow in the knowledge of Christ and which led you to discover the beauty of his love. Growing in friendship with Christ necessarily means recognising the importance of joyful participation in the life of your parishes, communities and movements, as week as the celebration of Sunday Mass, frequent reception of the sacrament of Reconciliation, and the cultivation of personal prayer and meditation on God's word".
Wouldn't it be wonderful if we could create the spirit of World Youth Day in every parish in Cloyne! May the Pope John Paul II Award be a start, please God.

Most Rev. Dermot Clifford, DD
Archbishop of Cashel & Emly
Apostolic Administrator of Cloyne
The Award in the Diocese of Cloyne
There are 4 Awards - Gold, Silver, Bronze & Papal Cross
Each Award is completed over a 16 month period beginning at the start of the academic year.
Awards are earned by taking part in parish and social activities – 1 hour per week over 8, 14, 20 or 26 weeks.
Those that have completed the Gold Award have a further option of completing the Papal Cross Award.
Gold AwardSilver AwardBronze AwardPapal Cross Award
Diocese of Cloyne Award Top-Up Suggestions
Award Top-Ups are given in recognition of the extra activities that Award participants are already involved in.
Top-Ups will go towards the total number of hours an individual has to complete.
Papal Cross:
7.5 hours
Gold
: 6 hours
Silver:
4.5 hours
Bronze:
3 hours
Top-Ups can be achieved in a number of ways, for example:
Pilgrimage
Many parishes organise pilgrimages, either specifically for young people, or for the wider parish community, but open to young people. Participation in this type of activity can be part of the Pope John Paul II Award.
Diocesan Youth Activities
On a number of occasions during the year, the Diocesan Youth Ministry Team will organise youth activities such as participation in the diocesan pilgrimage to Knock, Youth Retreat Days or other pilgrimage activities. Participation in these activities can be part of the Pope John Paul II Award.
Training for Ministry
During the year, the Diocesan Youth Ministry Team will extend an invitation for young people to participate in training programmes. These training events can also be part of the Pope John Paul II Award.
Humanitarian Trips
Trips lasting four days or more to work on specific projects, such as orphanages in Romania or home building in Africa. The Presentation Schools' Projects which bring young people to Zambia or other areas to work in a voluntary capacity in schools and communities can also be part of the Pope John Paul II Award.
There may be other activities that you are involved in that are not included here but may be relevant, if so please contact the Pope John Paul II Award Committee for approval.
On Thursday 19 October, 2017 the diocese of Cloyne held their 5th Annual Pope John Paul II Award ... read more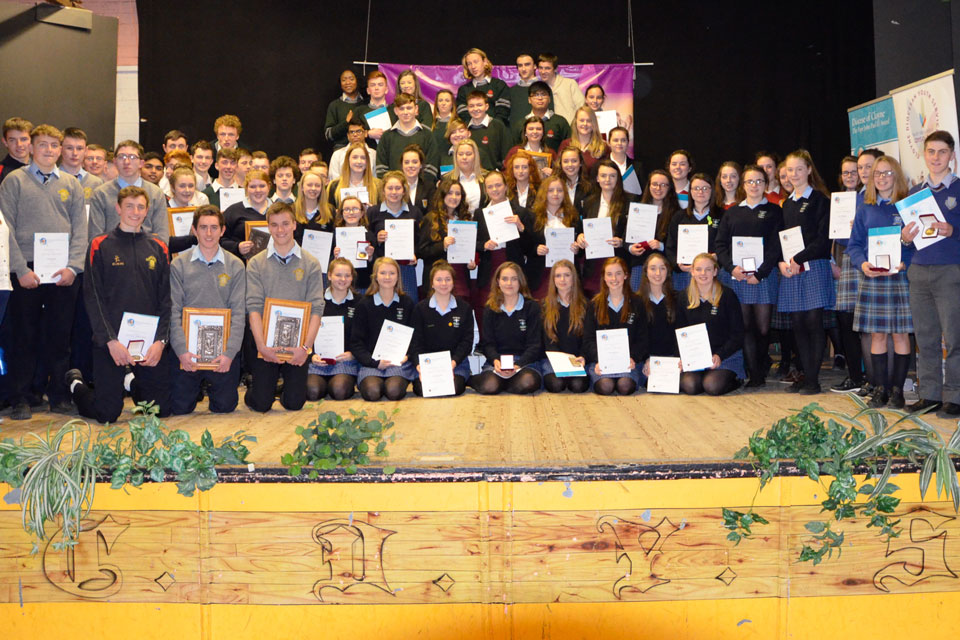 On Wednesday 19 October, 2016 the diocese of Cloyne held their 4th Annual Pope John Paul II Award ceremony in Mallow Community Youth Centre, Co Cork. 101 Award recipients 101 young people from the diocese and neighbouring diocese received the… read more