Help us promote the Pope John Paul II Award special pilgrimage to Rome. Use these banners on your social media profiles and web pages.
Use on your social profile
To use, just click the banners. On the window that opens, right click to save the image to your PC or save directly to your device.
Banner for Facebook

Banner for Twitter

Show everyone you're going on our pilgrimage to Rome
Display the badge as your profile.
Simply 'right-click' the badge and choose 'save as' to download the image. Then you can use it on your Facebook pages and profiles, Instagram, a pinned Tweet – anywhere you feel appropriate.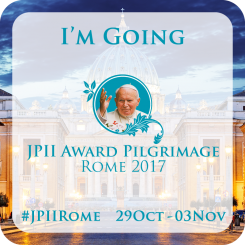 More on this event