On Thursday, 22 November 2018 the diocese of Galway, Kilmacduagh and Kilfenora held their 8th Annual Pope John Paul II Award ceremony in St Mary's College, Galway.
60 young people received their Pope John Paul II Award
60 young people from the diocese received the Gold, Silver, Bronze and Papal Cross award on the night.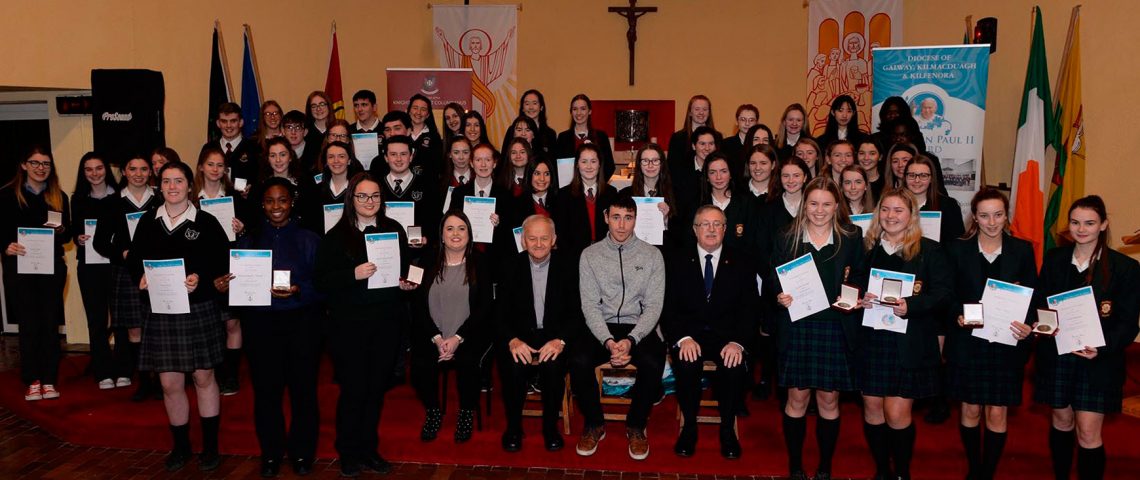 All Ireland Winning hurler, Conor Cooney keynote speaker
Keynote speaker on the night was Galway's All Ireland Winning and All Star hurler, Conor Cooney who spoke about the importance of church and parish as linked to the community and the GAA.
Bishop Brendan Kelly thanked the young people for all their hard work and praised their commitment to their parishes and the wider community. Former Supreme Knight of the Knights of St Columbanus Barry MacMahon travelled from Sligo to be there on the night and he also addressed the large crowd confirming the young people in their faith.
Parish and Social Activities
The Award recipients had been involved in a huge range of activities in both parish and community including:
ministers of the Word and Eucharist;
volunteers on the diocesan pilgrimage to Lourdes;
volunteers at the closing Mass for the World Meeting of Families;
creating a safeguarding information leaflet for parents and children;
volunteering in day care centres for the elderly;
volunteering in Chernobyl with special needs children;
singing and playing music for Mass;
helping out in parish offices and with parish newsletters;
coaching sports;
Big Brother Big Sister; and
creating a special prayer book for students
Many also becoming involved with charities and organisations such as Concern, Trocaire, St Vincent de Paul, Age Action, Special Olympics, Brothers of Charity and Enable Ireland.
One award recipient summed it up in his reflection
The Pope John Paul II Award provided me with an opportunity to focus and embrace new challenges, to be a better person. Throughout my activities I was aware of the goodness of God and the goodness of people".
You might also be interested in:
Get involved with the Award
If you would like to find out more about the Award in the diocese of Galway, please contact the RE teacher in any of the Galway diocese secondary schools, or Mia Joyce-Walsh on: 091 565 066 or by email: jp11galway@gmail.com