The Pope John Paul II Award
The Pope John Paul II Award encourages you to go beyond your comfort zone on a journey of self-discovery. It challenges you to give of your time, your talents, your intellect, and your social skills for the well-being of others and for the Glory of God."

The Pope John Paul II Award enables participants to take an active part in the life of their Church - in the life of their community and society. It also enables young people become more aware of the teaching and role of the Catholic Church in the world and to engage at a deep level with Christ.
The Award is committed to helping young people enhance their spiritual, physical, emotional and social development through participation in school, parish and community activities.
A message from the Bishop of Derry
The purpose of this initiative, 'The Pope John Paul II Award' in this diocese is to enable young people to live their faith and to witness to that faith lived out in the parish community.
I concur fully with the late Holy Father's sentiments expressed so beautifully in Galway in 1979, "I believe in youth". The youth of today will be the leaders in the church and in society in the future.
The components of 'The Pope John Paul II Award' comprises parish engagement - liturgical and pastoral, social awareness and an eventual written presentation of their endeavours.
Now and in the future all our endeavours must be based on prayer, intercession and active participation in the liturgical life of the Church. In this way we will receive God's grace and help. "If the Lord does not build the house, in vain do its builders labour" Ps 126.
I invite you, the young people of the diocese, to participate in this initiative. I thank in advance all the leaders and others who will assist and facilitate you.

+ Séamus Hegarty
Bishop of Derry
The Award in the Diocese of Derry
There are 4 Awards - Gold, Silver, Bronze & Papal Cross
Each Award is completed over a 16 month period beginning at the start of the academic year.
Awards are earned by taking part in parish and social activities – 1 hour per week over 8, 14, 20 or 26 weeks.
Those that have completed the Gold Award have a further option of completing the Papal Cross Award.
Gold AwardSilver AwardBronze AwardPapal Cross Award
The Award enrolment fee in the Diocese of Derry is £10 per participant.
Diocese of Derry Award Top-Up Suggestions
Award Top-Ups are given in recognition of the extra activities that young people are already involved in. Top-Ups will go towards the total number of hours an individual has to complete.
Top-Ups can be achieved in a number of ways, for example - helping with the sick pilgrims at Lourdes or working on behalf of Children in Crossfire. These activities will gain participants Award Top-Ups:
Papal Cross: 7.5 hours
Gold: 6 hours
Silver: 4.5 hours
Bronze: 3 hours
There may be other activities that you are involved in that are not included here but may be relevant, if so please contact the Pope John Paul II Award Committee for approval.
Pilgrimage to Lourdes
Each year about 600 people from the Derry Diocese travel to Lourdes between the 16th-21st July. About 80 of the people who travel are registered as sick. These people need special care while in Lourdes. Volunteers are always needed to give them that care. It may be pushing their wheelchair or just accompanying them. Working in Lourdes with the diocesan pilgrimage can be part of this Award.
Humanitarian Trips
Trips lasting 4 days or more to work on specific projects, such as orphanages in Romania or home building in Africa.
Children in Crossfire
Organise a Children in Crossfire week in your school or parish. This can be organised by an individual or a group (no more than 5).
There are 3 elements required:
At least one fundraising event during the week
Organise a talk or display focusing on an issue in the developing world
Cross Community - organise a talk or display focusing on some aspect of 'another' community within our society, e.g. another faith community, minority community or ethnic community.

Other Suggestions
Active membership of Youth Initiatives such as Search, COR, Youth 2000 and the IOSAS's youth community over the year. Joining 'REJOICE' the diocesan youth choir for the year.
Award Handbook
The Award handbook explains in detail how the Award is run and who is responsible for running the Award in your diocese.
On Monday 4, February, 2019 the diocese of Derry held their 12th Annual Pope John Paul II Award ... read more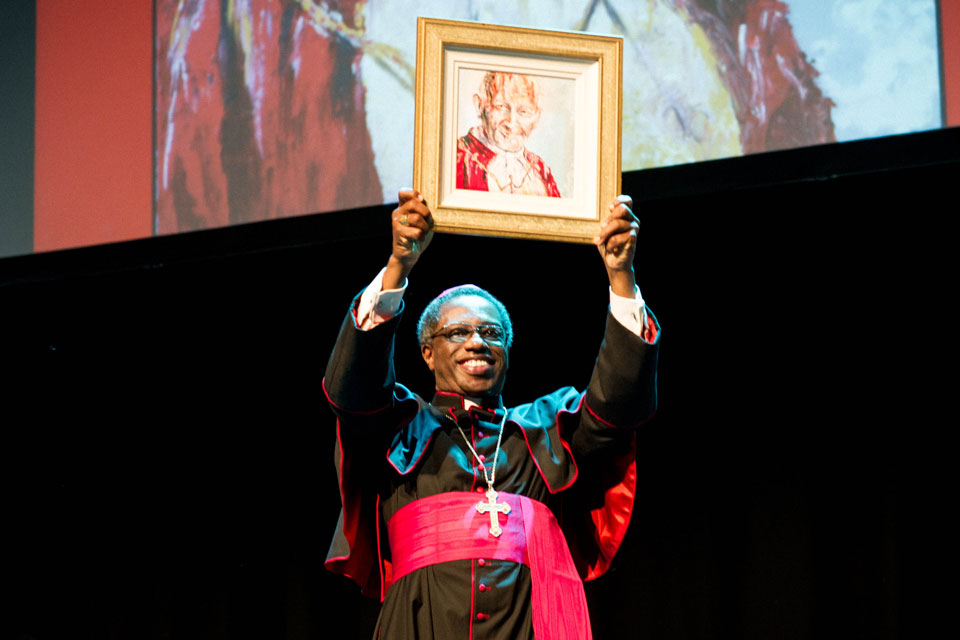 On Monday 5, February, 2018 the diocese of Derry held their 11th Annual Pope John Paul II Award ... read more