On Friday, 25 May 2018 Bishop of Killala, John Fleming and the Diocese of Killala congratulated 22 amazing young people who each received their Pope John Paul II Award at the Diocese Award ceremony in the Newman Institute, Ballina, Co Mayo.
The award is dedicated to the memory of St Pope John Paul II, who showed a great love and confidence in young people. Christian leadership and service in the community are at the heart of what the award is about.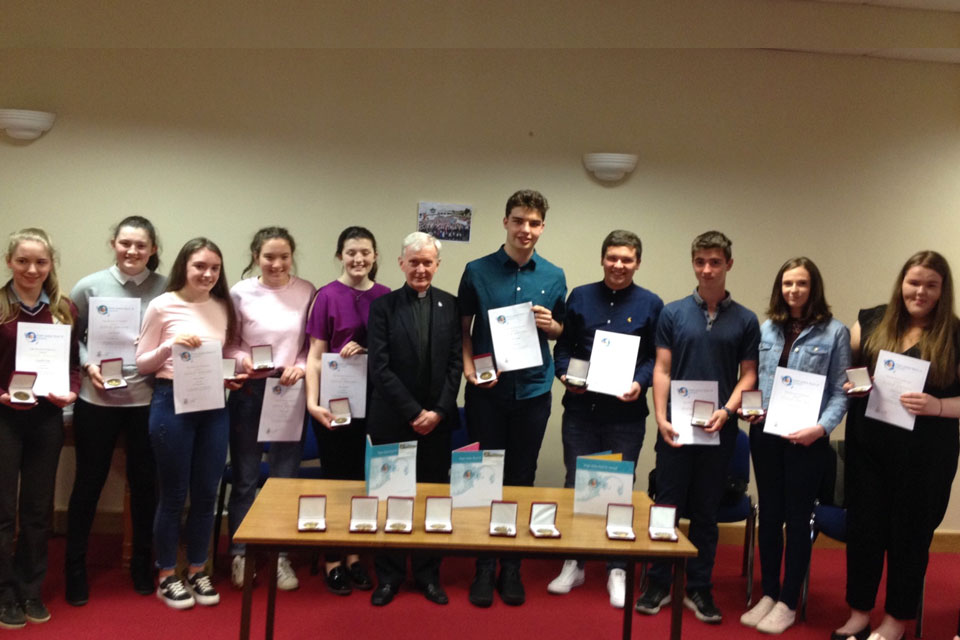 Thanks to the Award participants families, schools and parishes
Congratulations go all those who received their award on the night. A special thanks too to the award recipients families and teachers for their hard work to help those participating in the award achieve their goals. It was a great achievement for the young people, their schools and local parishes.
'The commitment and dedication from this year's young people has been simply outstanding' said Fr Joe Hogan, JP2 Award Coordinator.
It has made them inspiring role models to those they serve in their parishes.
The award is made up of two strands. In strand one, young people are invited to commit themselves to active involvement in both the life of their local parish. The second strand asks for commitment to service of their community. On competition, the award participant is asked reflect on how their involvement has helped them to understand better what it means to be a member of the catholic church.
Activities Pope John Paul II Award recipients undertook in their parishes
The young people immersed themselves into the life of their parish and of their community over the past year. They enhanced their school and parish liturgies through word, song and music, by prayer, serving, ministers of the Word and of the Eucharist, helping out in their local parish office, choir, visiting hospitals/nursing homes, helping prepare church for Christmas and Easter Liturgy and church cleaning and so many other different ways in the parish and school.
Through their participation they enlivened the great liturgies of our church's year. They touched the lives of those both home and abroad by raising much needed funds. They have been faith friends to some of the younger people in our society by assisting them with the preparation for first holy communion and confirmation. They have given life to their faith through their involvement with organisations such as Trócaire and with the Vincent de Paul. They have served their community by caring and making friends with the elderly and those with special needs through their kindness, goodness, compassion, visitations, fundraising, mentoring and through involvement with groups such as their parish youth clubs, student councils.
Schools involved in the Award in the diocese of Killala
A sincere thank you to their award leaders for all the work they do in making the award a success in their school.
Jesus and Mary Secondary School, Gortnor Abbey, Crossmolina;
Colaiste Chomhain, Rossport;
Convent of Jesus and Mary, Enniscrone;
St Brendan's College, Belmullet; and
Our Lady's Secondary School, Belmullet.
We were delighted to have Michael McKeigue and the elected members of the Knights of St Columbanus present for this award ceremony. Without the support from the Knights of St Columbanus this award would not be possible. A special thanks to Rita and Lorraine at Newman Institute and Mattie for the lovely food on the night.
Bishop Fleming presented each young person with their Award Certificates and Medals. He said it was a fantastic achievement for all the young people to receive their award as they are the future of the church.
Get involved with the Award
If you would like to get involved in this fantastic award, which runs annually throughout the diocese please contact Fr Joseph Hogan on 086-0734860 or email kilcommonparish@eircom.net
You might also be interested in: