This year, the Pope John Paul II Award is celebrating its 10th anniversary. To mark this special occasion and celebrate the achievements of so many who have participated in the Award, a special pilgrimage to the Vatican in Rome will take place in October 2017, the highlight of which will be an audience with the Holy Father, Pope Francis.
Rome flight, accommodation & programme
Flight, accommodation and programme information is now published for our pilgrimage to Rome. It can be viewed by clicking here.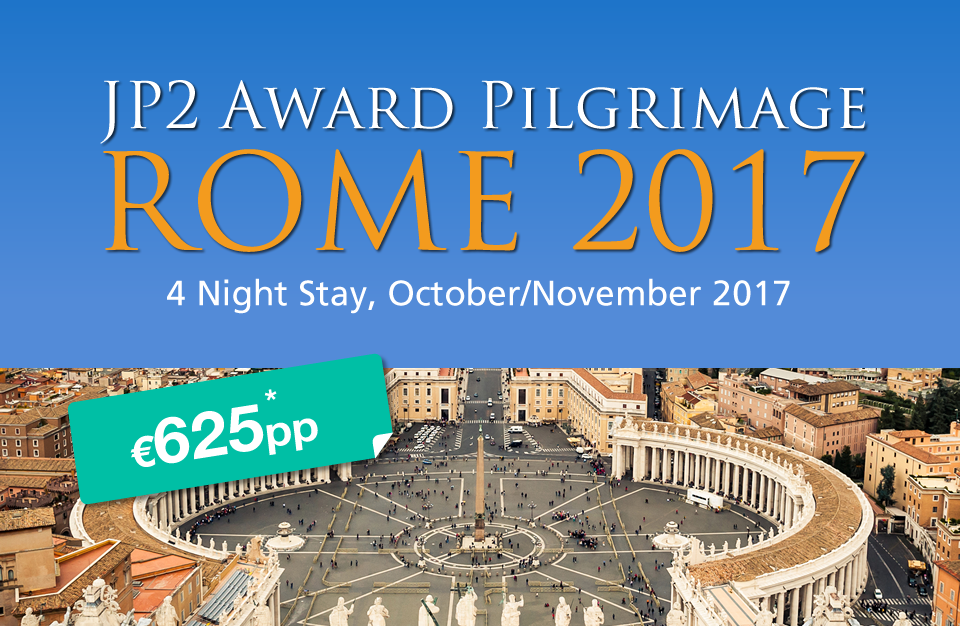 Pilgrimage details, flights, tours and accommodation
– Return flights from Dublin to Rome
– 4 night stay, 3 star hotel B&B accommodation – twin and triple sharing (single supplement applies)
– Airport taxes
– Airport transfers in Rome
– All tour and event transportation
– Fully licensed and bonded tour operator (Joe Walsh Tours)
– Travel insurance
– Vatican tour and entrance pass
DATES:
Dioceses Group 1: Sunday, 29th October to Thursday, 2nd November 2017
Dioceses Group 2: Monday, 30th October to Friday, 3rd November 2017
Location: Vatican City, Rome, Italy
IMPORTANT: Please note, this pilgrimage is only for those aged 18 years and over.
THE PILGRIMAGE HIGHLIGHTS:
– An audience with the Holy Father Pope Francis*
– Daily Mass and a celebratory Mass in the Irish College
– A visit to the tomb of Pope St John Paul II
– Optional Seven Church walking pilgrimage
– Mass in St Mary Major, St John Lateran and St Peter's
– Half day conference on the subjects of Youth Ministry, World Meeting of Families and World Youth Day
– Tour of Rome
– Vatican tour
*subject to the Holy Fathers schedule
Take part in this special event
Award patron Bishop Donal McKeown, Bishop of Derry will lead the pilgrimage. All Pope John Paul II Award participants past and present in Ireland and the UK are invited to take part in this pilgrimage along with their parish leaders and Award leaders.
This unique pilgrimage is also ideal for any student who has completed the Award/left school – or indeed for anyone involved in youth ministry/youth work and would like to see the fruits of the Pope John Paul II Award.
It would be an opportunity for students who have displayed an interest in youth ministry/pastoral ministry in schools and colleges.
Pope John Paul II Award participants and leaders from the dioceses of Ardagh & Clonmacnois, Armagh, Clogher, Cloyne, Derry, Dromore, Elphin, Ferns, Kildare & Leighlin, Tuam and Waterford & Lismore have already booked their places.
Meet other Award participants and Award leaders from Cork to Derry, Galway to Dublin and all counties in between.
Share your experiences of the John Paul II Award with others who know the Award.
Explore this historic city and visit the Papal Basilica of Saint Peter, the first Pope.
Experience an audience with Pope Francis and hear his message first hand.
Visit the tomb of Pope St John Paul II who this Award is commemorated to and who spoke those special words to the youth of Ireland, in Galway in 1979, 'Young people of Ireland, I love you.'
Follow in the footsteps of the many pilgrims who have visited and prayed at this special holy place.
BOOK YOUR PLACE AND MAKE PAYMENT
We are delighted to say that JP2 participants past and present from 11 dioceses in Ireland along with Award leaders and coordinators have booked their places for this unique pilgrimage to Rome.
PRICE: €625pp*
Single supplement applies.
There are still some places available. If you or anyone you know may be interested in joining us please get in touch.
Email: admin@thepopejohnpauliiaward.com
Telephone: 00 44 (0)28 7126 4087
*Subject to change. Price will be confirmed on payment of deposit.
More on this event